Justin Bieber Slams Coachella Lip-Sync Claims, Ariana Grande Chimes In
By Hayden Brooks
April 25, 2019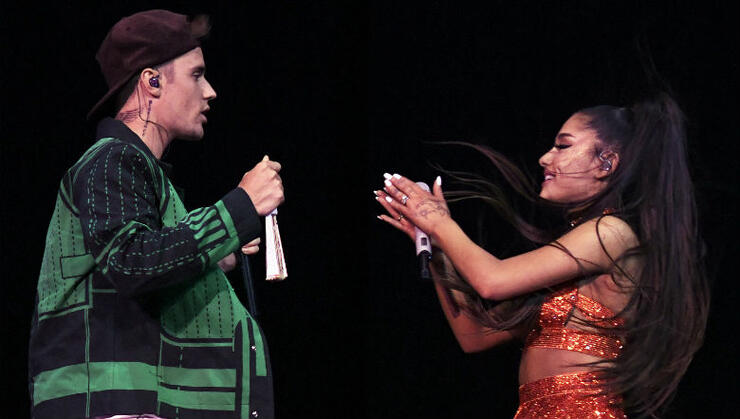 Justin Bieber wasn't having any of E!'s Nightly Pop accusations that he fully lip-synced "Sorry" during his surprise appearance as part of Ariana Grande's headlining set at Coachella.
On Wednesday (April 24), the 25-year-old chart-topper hit back after he caught wind of host Morgan Stewart's commentary. "I did not realize it was going to be that bad. He definitely looks like he put an Oxy pad on that forehead, but I don't care. That is f**ed up!" she said. Meanwhile, Bieber response on Twitter was nothing short of grown and logical. "@Morgan_Stewart just saw a video of you ripping me to shreds saying I was lip-syncing. They played the song and i just sang overtop of it," he explained in his first tweet. "Regardless why spend your time tearing people down. It's people like you that are bullies at school that are making kids suicidal."
In follow-up tweets, Bieber pushed his bullying argument, urging that she should spend her time building up and encouraging people instead of laughing at their expense. "What hurts about this is the fact that you have a platform to make a difference more and rather than being positive you belittle people," he wrote. "Think about how awesome it felt for me to be on that stage after being away for so long the excitement and joy it gave me doing the thing i love the most, i sang to to backtrack like most cameos do this is a normal thing."
Bieber went on to add that the world is already filled with enough negativity. "When are we gonna be the kind of people that find joy in adding value to one another and not tearing each other apart," he said.
Needless to say, the pop titan got his message across and Grande had his back in the process. "We also decided to do this ten minutes before my set started. we had 0 soundcheck, 0 rehearsal," she wrote in a since-deleted message. "U were singing with the back tracking like most cameos do. people are bored. people don't know how it feels to be under such scrutiny. the world was happy to have u on stage again. I don't like when people try to ruin beautiful moments for my friends that's all. have a good day."
Chat About Justin Bieber Slams Coachella Lip-Sync Claims, Ariana Grande Chimes In