Taylor Swift Fans Gather At Butterfly Mural In Nashville
By Nicole Mastrogiannis
April 25, 2019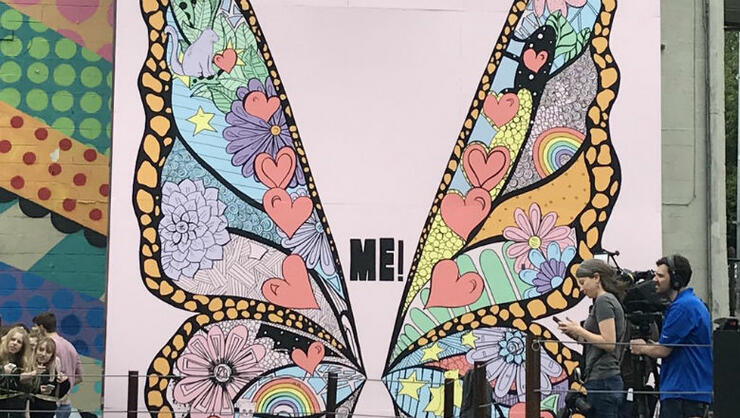 Taylor Swift fans have gathered around a mural in Nashville, believed by fans to be connected to the singer and the forthcoming announcement she's been teasing.
The mural is located in The Gulch area of the city and uses pastel pinks, purples and blues — the same aesthetic that Swift has been using in all of her teasers about her upcoming surprise. The painting, by street artist Kelsey Montague, shows a gigantic butterfly with more imagery similar to what fans have been seeing from Taylor's recent social media posts, like hearts, cats, and flowers.
When the mural first went up, the official Nashville, Tennessee Instagram account posted a photo of the scene, along with the caption, "Hmm Does this new @kelseymontagueartmural in @thegulchnashville have something to do with @taylorswift? Only time will tell!" Fast forward to April 25th — the day before Taylor's highly anticipated April 26th surprise — and many fans gathered as the artist made an update to the mural: the word "ME!"
SO. What does it mean?! Is this connected to new music? Or any announcement that is coming from Taylor on April 26th? According to a reporter at the scene for the news station that was live streaming the event, Rebecca Cardenas, the artist said that "the mural is for the #NFLDraft, and [has] no idea how it became associated with the pop artist's upcoming announcement." Well, it's extremely unclear how pastel colored butterflies, and hearts, and cats have anything to do with the NFL, but hey, it's 2019?
Either way, fans still believe that the mural and Taylor are linked, whether this painting is connected to the announcement from Swift herself, or it's a work of art simply dedicated to her. Take a look what T-Swift's fans are saying about the mural below.
Chat About Taylor Swift Fans Gather At Butterfly Mural In Nashville