The Jonas Brothers Recall The Unhealthy Behavior That Caused Their Split
By Hayden Brooks
April 25, 2019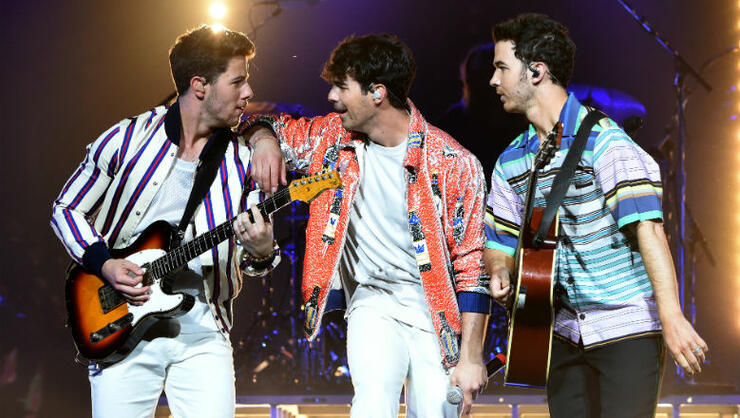 The Jonas Brothers are experiencing a career resurgence, courtesy of their comeback single, "Sucker," but the pop trio recently spoke about what led the former Disney stars to break up in the first place in their new Billboard cover story.
In the feature, which credits their abrupt 2013 split due to "general burnout and conflicts over the group's direction," Joe offered up some insight on the unhealthy dynamic that led to their severing. "We all wanted to create something on our own and were just trying to force it into what was going on. We were going through the motions, without the heart of it," the 29-year-old star said, admitting that "the way [they] communicated to each other wasn't healthy anymore."
Elsewhere in the story, Billboard detailed that it was Nick who pushed for their hiatus and he was also the first to bring up the possibility of a reunion during their family Christmas outing in 2017. "There's a different magic when we're together that I wasn't experiencing," he explained. "So I started sprinkling some Jonas Brothers songs into my set, but always thought, 'This would be a lot better with the other Jonas Brothers.'" Scroll on below to see their new cover of Billboard, as well as additional photos from the feature story.
The JoBros are set to perform at the 2019 Wango Tango presented by JUVÉDERM Collection of Fillers on June 1st in Los Angeles, alongside a lineup of superstar artists to help kick off the summer. Fans can tune in and watch the mega-concert via a nationwide live stream on LiveXLive.com and then re-watch the concert during a 90-minute televised special on Freeform on June 7th at 8 p.m. ET/PT. Fans can also listen live on iHeartMedia radio stations throughout the country in 100 markets, as well as on the iHeartRadio app.
in their upcoming Amazon documentary, which is set to drop later this year. "I watched the teaser trailer and was crying like a baby," Joe admitted despite not even seeing the first cut of the film yet.
Chat About The Jonas Brothers Recall The Unhealthy Behavior That Caused Their Split