Angelica Vila: iHeartRadio On The Verge Artist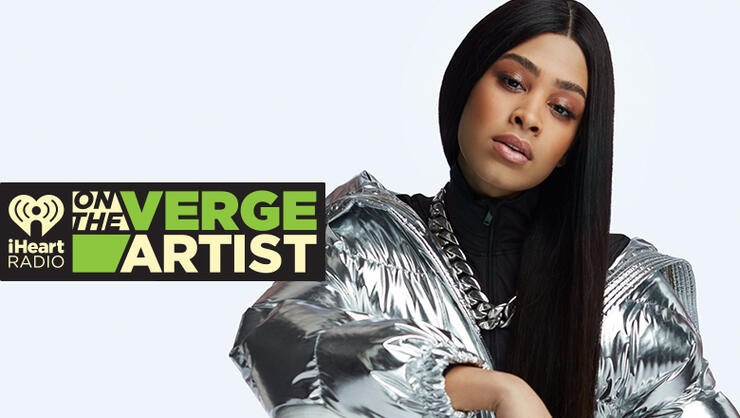 Bronx-bred singer Angelica Vila sings more than she speaks. When a young Vila set her eyes on the Disney Channel sitcom Hannah Montana, the double life of Miley Cyrus' titular character as an entertainer and regular girl resonated. She spent her spare time in middle school, belting out songs by the likes of Alicia Keys and Christina Aguilera. Soaking up inspiration from Cyrus' 2009 film The Climb, Vila began her own songwriting journey around 7 years old and penned her first original song, Out The Rooftops which included the lyric that perhaps predicted her future: "I know I have to believe in all my dreams."
[CLICK HERE TO BUY MORE IN THE MORNING]
Passion has been Vila's forte since she performed for the first time at a St. Jude's Hospital charity event. With only an hour to learn the words to Beautiful by Christina Aguilera, Vila ended up fumbling the performance but still keeps the video of it on YouTube to show fans her humble beginnings. In 2016, she crafted her first proper project with 1998 (named after her birth year), a collection of songs she wrote as a teen that she considers the gateway to her career. One of the EP's highlights is Fuck Love, a sonic middle finger to an unworthy partner and a shining example of her unfiltered approach to songwriting. "I wanted people to understand like don't be afraid to do whatever you want to do, talk about whatever you want to talk about or even feel how you feel," she says.
With her uncle, Nae Sketchie —a high-profile club promoter in New York City who also serves as her current manager, Vila would also trek to New York City's High Line with a videographer and record videos of her singing songs like We Are The World and Cheetah Girls' for passersby. In addition to making home videos and music videos for various covers, Vila aimed to expose her voice and practice performing in front of an audience. She recalls: "I think it was really more to get my foot in there and get into people's ears."
Vila then launched her career with YouTube, covering popular hits that racked up thousands of views for her renditions of Adele's "Hello," JAY-Z's "Holy Grail" and Justin Bieber's "Sorry." Her uncle's connections with DJs in Uptown New York also helped Vila land on local radio stations like Power 105 but it was her Instagram freestyle of DJ Khaled's "Wild Thoughts" that caught media personality Pretty Lou and rap veteran Fat Joe's attention. After singing for Joe in a random studio meeting, Vila even ditched her job at Skechers on the first day to head to Joe's yacht party. Three months later, she was signed to his label in partnership with Roc Nation.
Fat Joe, who now mentors Vila, recalls how she outworked the studio staff during a string of studio sessions in Miami. "We have our own studio engineer and everybody wanted to quit because she was working 20 hours a day," he says. "I had to go by the studio and pay everybody extra." The recording marathon was Vila's choice, especially as her first experience traveling to another city to record. "I was supposed to stay in that studio for a month," she says. "I ended up staying there for two and was just in there nonstop every single day."
The music coming out of the sessions, though, appears to be well worth the investment. At 19 years old, Vila —who has created roughly 30 tracks so far with assists from songwriters like Joelle James (writer of Ella Mai's "Boo'd Up) and Antonio Dixon —promises maturity for her forthcoming debut album. She aims for sexy without being provocative, as heard on tracks like the Shyne-sampling gem "More In The Morning" and the R&B/dance slow jam, "By Your Side." The songs also showcase her vibrant vocals and penchant for experimentation. "I don't want to sound disrespectful but we've never had a Latino girl with this type of hot music," Fat Joe adds. "When you see the swag and vocals, you know it's the first time you've seen somebody doing this. I wouldn't make comparisons but she's a mixture of Ashanti, Keyshia Cole, Rihanna and Mary J. Blige all wrapped up in one because when they sing, they sing passionately."
Raised by a single mother with her two siblings, Vila's soundtrack at home was predominantly R&B and Spanish music, a unique blend that she hopes to infuse into her forthcoming album as well. "You can always do the turn-up but with emotion, you could really feel it," she says. "I feel like when I'm writing, I try to let my emotions peek through the pain."
CHECK IT OUT...
Chat About Angelica Vila: iHeartRadio On The Verge Artist