Chrissy Teigen Weighs In On Lala Kent & 50 Cent's Feud
By Peyton Blakemore
April 29, 2019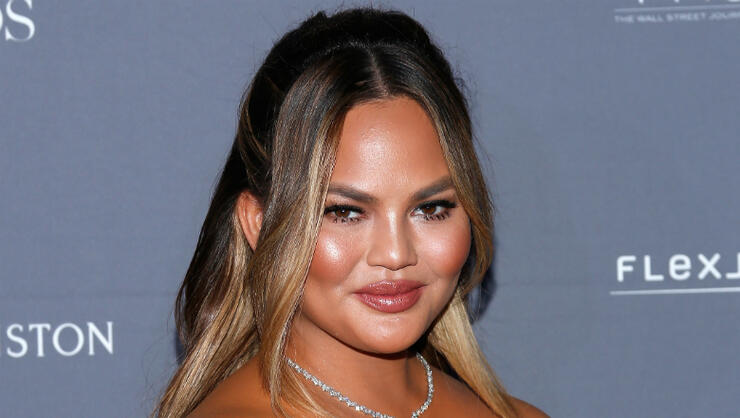 If you're a follower of Chrissy Teigen you know how much she loves Vanderpump Rules (and all things Bravo). So when one of the Bravo show's stars Lala Kent found herself at the center of a feud between her fiancé, Hollywood producer Randall Emmett, and 50 Cent, you know Chrissy couldn't help but weigh in.
On Friday (April 26), 50 blasted Lala on Instagram when he shared an old video of her talking about her sex life with Randall. In the clip, the Bravo star detailed how she let her then-boyfriend "hit it" on their first night together and how he bought her a car the next day. "10 seconds left in the 4 quarter h*e's are Winning. Do you want A range rover, yes, b*tch yassss. Then just run out and suck a d**k. LOL smh," the rapper and business mogul captioned his post." He later added in the comments: "ME TOO ROLE PLAY: Are you a actress come to my hotel and act like you really want the role, then suck a d**k No good Randall No good."
After firing off his Instagram attack against Lala, 50 claimed that Randall, who is also a producer on 50's show Power, owed him $1 million and began creating an number of memes poking fun at the producer he referred to as a "sucker." 50 additionally shared text messages from Randall, in which the producer apologized, misspelled his name (he called him "fofty") and even claimed he was heading to the hospital to make sure he wasn't having a heart attack following 50's social media assault. In response, 50 called Randall "a f**king loser" and asked him if he told his fiancée about the $1 million he allegedly owed him.
The rapper's online bashing attracted so much attention even Randall's Wikipedia page was temporarily updated to read, "He owes 50 cent (aka Fofty) a million by Monday or else. He's faked a heart attack to get out of it thus far."
Chrissy, being the Bravo superfan that she is, also got involved, tweeting her thoughts about the ordeal. "I never ever want 50 cent to be mad at me," she wrote before joking about his new name, "please love me, fofty."
"I love you @chrissyteigen & john," 50 responded on her on Instagram. "These people just keep trying me."
And for those of you wondering if Randall actually paid up — he did. On Monday (April 29), 50 Cent announced the news on Instagram, writing, "I got my money, so I have no problem with @randallemmettfilms in fact I'm wishing him and his family a very blessed day. positive vibes now guys. LOL." He also deleted all of his bashing posts about Lala and Randall.
Photo: Getty Images
Chat About Chrissy Teigen Weighs In On Lala Kent & 50 Cent's Feud