Drinking California Tap Water Could Lead to Higher Cancer Risk, Study Says
By R.J. Johnson - @rickerthewriter
April 30, 2019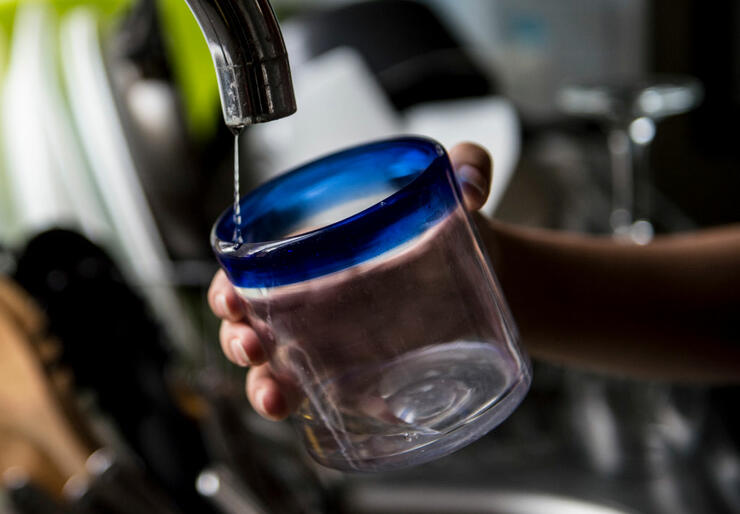 A new study on California's tap water may have residents of the Golden State reaching for a brand new Brita filter. According to researchers from the environmental advocacy group, Environmental Working Group, a variety of toxic pollutants found in California's drinking water could in combination cause more than "15,000 excess cases of cancer."
Researchers examined state and federal data on carcinogens and other toxic contaminants such as arsenic, uranium, and hexavalent chromium in public water systems across the state between 2011 and 2015 in more than 2,700 community water systems. Scientists developed a new method to calculate the combined health impacts of multiple contaminants in a single water supply.
"We need to look at contaminants as a group -- not just one at a time. It's more important to analyze co-occurring contaminants to understand the real world exposure," said lead author Tasha Stoiber, a senior scientist with EWG.
The team divided California's water systems into four categories of risk, with the highest category estimating an additional cancer risk over the course of a lifetime of more than 1 in 1,000. Researchers did not identify which water systems they considered 'high risk' in the state, however, the study did state the greatest risks tended to be in small to midsize communities.
Much of the lifetime cancer risk was thanks to arsenic found in public water systems that relied heavily on groundwater supplies. Arsenic contamination in drinking water can come from both naturally occurring arsenic found in the ground, or from industrial and agricultural sources.
"Arsenic is going to be an issue with groundwater in certain areas" said Stoiber.
There is no safe level of arsenic exposure for people, the Centers for Disease Control and Prevention states on its website.
The study's authors found nearly 47 percent of lifetime cancer cases were due to arsenic contamination in drinking water. Another third were attributed to products meant to help disinfect the drinking water. About 16 percent was due to exposure from hexavalent chromium, the element made famous by Erin Brockovich's case against Pacific Gas and Electric in the early 90s.
The study cautions that while most drinking water systems found in the U.S. meet all state and federal limits, legal doesn't always mean safe. In fact, more than 85 percent of the cancer risk calculated by the EWG study is due to contaminants below legal limits.
Nearly 3.1 million Californians in small to medium communities get their tap water from 495 'high risk' systems. The study estimates an additional 4,860 people could develop cancer from drinking their tap water. Another 28.5 million Californians get their tap water from 1,177 systems in which the contaminants pose a cancer risk of 1 per 10,000 people.
Residents in California can take steps to reduce contaminants found in drinking water by adding a certified filter or reverse osmosis system. Brita filters are good, but point-of-use devices, typically installed by a plumber, are considered a far better way to filter out carcinogens and pathogens found in tap water.
Photo: Getty Images