This Is The Set That Changed Green Day's Lives
By Katrina Nattress
April 30, 2019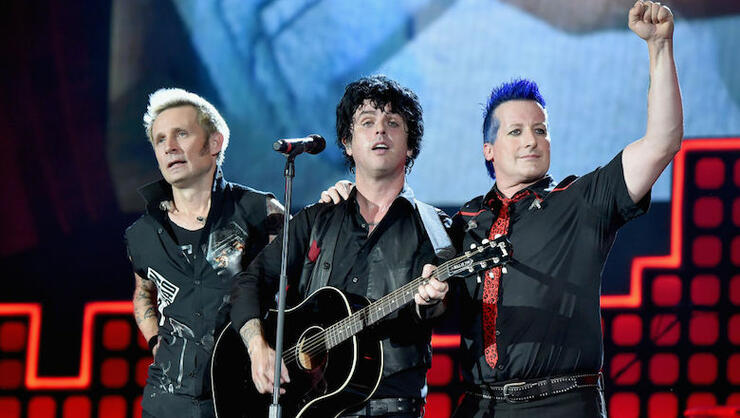 This year Green Day decided to incorporate their Record Store Day release with the 25th anniversary of Dookie by putting out their Woodstock '94 set on vinyl. That gig also happened to be one of the most important for the band, as it catapulted them into rock stardom. Drummer Tré Cool recently visited the Member Guest podcast, which features Linkin Park bassist Dave Farrell, to discuss the show that "changed our whole lives."
"'94 Woodstock was a complete s***-show," he says. "It was a Pepsi-sponsored thing, it was, like, worldwide televised pay-per-view and all that stuff, and every band of significance was there. It was crazy. And of course people start going around the fence and sneaking in, and it kind of became mayhem. And then bad weather came and it was raining like crazy and the whole place became a mud pit. It was pretty chaotic, and set up really well for Green Day to take the stage and make all hell break loose.
"All of a sudden a mud fight started happening, and they were throwing it onstage and we were throwing it back and it got all chaotic. We kept trying to play, but Billie [Joe Armstrong] was getting mud hitting his guitar and Mike [Dirnt] was getting it on his bass and hitting him. Luckily my drum set was just far enough back where I was less in harm's way… It was punk as fuck, and nobody expected that to happen.
"Mike actually got tackled [onstage] by a security guard because he was covered in mud and the security guard didn't know who was who. They tackled Mike and broke his tooth and chipped his elbow! It was pretty gnarly if you see the video – the guy grabs Mike andslamshim down, and he's a big-ass security guy."
As for the RSD artwork, it was the frontman's debut.
"Billie made his debut as an album cover artist with this thing, and it's really, really cool," Tré gushes. "So it's basically the cover of Dookie with Duct Tape over it, and it says Woodstock '94 Live Performance, and then he splattered mud on it and wrote, 'Never trust a hippy.' That's the cover. It's cool – it's a fun listen. It was a crazy set – a set that changed our whole lives, really. After that day, tons of people were showing up at our shows. That was kind of the pivot moment – that was the green jacket moment for this band.
"We have some cool recordings – over the years we've recorded stuff, and we're just sitting on them. And we wanted to do something cool for Record Store Day, and for the 25th anniversary of Dookie it kind of seemed like a fitting release."
Check out the vinyl album art and listen to the podcast below.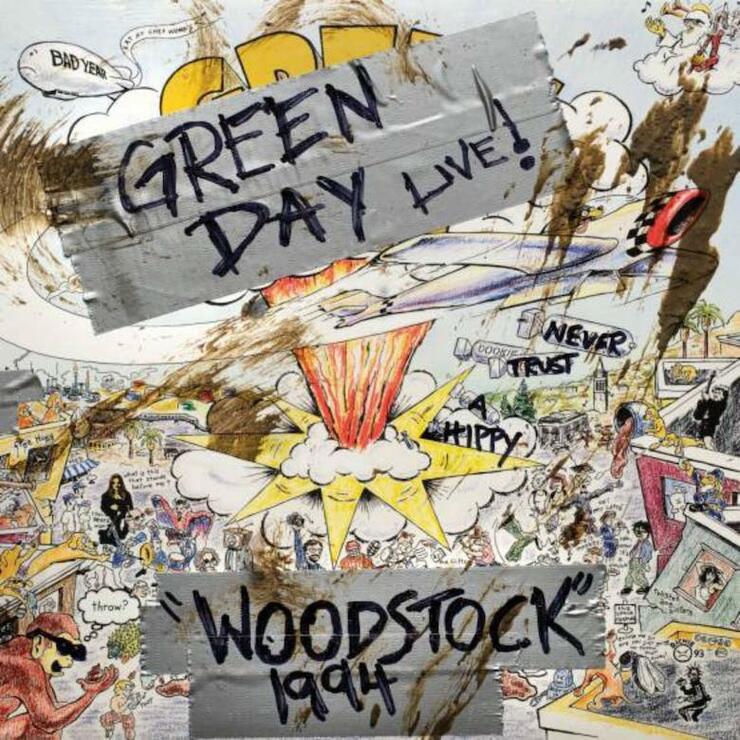 Chat About This Is The Set That Changed Green Day's Lives