Blake Shelton Gets Pre-Engagement Gift On 'Ellen' For Gwen Stefani Proposal
By Paris Close
May 1, 2019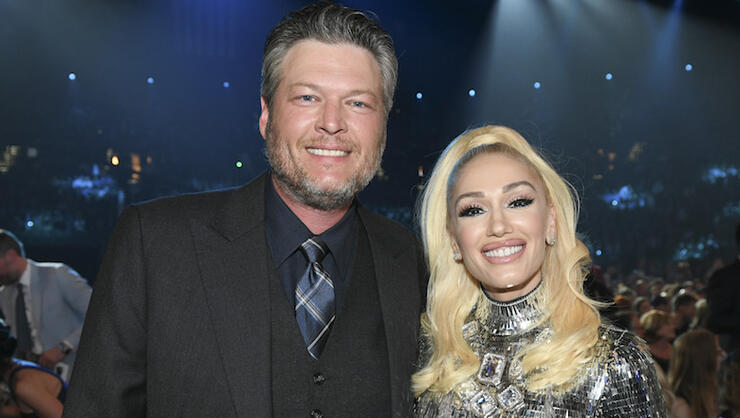 No one's more anxious for Blake Shelton to propose to Gwen Stefani than Ellen DeGeneres!
During the country crooner's guest spot on Wednesday's episode (May 1) of The Ellen DeGeneres Show, DeGeneres made the push for Shelton to (finally) pop the question to his longtime girlfriend with a hilarious "pre-engagement" gift. The daytime talk show host reminisced to the musician about gifting Jennifer Lopez and Alex Rodriguez a proposal clock ahead of Valentine's Day as a reminder to the former baseball athlete that time is of the essence. One month later: he popped the question.
Now, with another lovey-dovey holiday on the horizon, DeGeneres is hoping to work her magic once more with Shelton and Stefani. "So, Mother's Day is coming up and I have something for you to give to her," she tells the "God's Country" artist before presenting a clock with an image of the couple mid-smooch.
"So you're saying ...there's a chance she's going to ask me to marry her? You're saying with this clock," the 42-year-old responds in jest as he accepts the present, adding, "You see how I flipped it around and put it on her?"
"Now that she knows that you're waiting for her to ask, now that she's seen this, she'll ask you," DeGeneres replies, going along with the joke. "I'll call her tonight."
The duo found love as coaches on The Voice in 2015. In December 2018, Stefani told Today she hopes to find a "forever person" in the "Ol' Red" star, "somebody that's your best friend, that you know you can depend on and trust and just go through life with."
Chat About Blake Shelton Gets Pre-Engagement Gift On 'Ellen' For Gwen Stefani Proposal