Carrie Underwood Talks Baby #3: 'I've Always Wanted A Little Girl'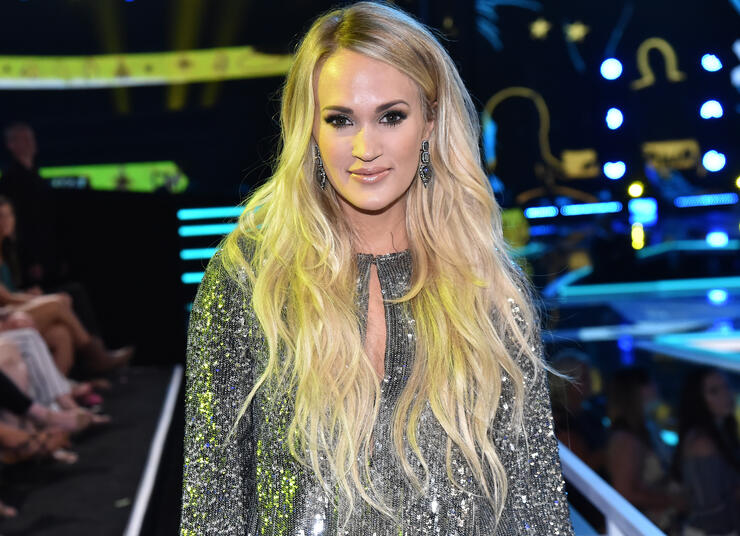 While talking with CBS Sunday Morning back in September, Carrie Underwood revealed she sadly suffered three miscarriages before welcoming her now 3-month-old son Jacob. Now, though, she's opening up about what that journey means for the future of her family.
Chatting with Today cohost Natalie Morales, the "Cry Pretty" singer spoke about her plans for expanding her adorable family. "You know, it's such a difficult road to get where we are now," she said, referencing her experience with miscarriages. "And I'll have to evaluate after this tour is over. Then we can talk about what's next." Despite the difficult journey, though, Carrie admits she's "always wanted a little girl."
Thankfully, Carrie says she's "feeling a lot more confident" after Jacob's birth. She says you learn something about yourself when you go through tough experiences like that, as well, and can possibly find meaning in those situations. "You still might not exactly understand why," she says, "but you come out on the other side feeling a little bit stronger."
As she gets ready to head out on tour, too, Carrie is giving herself permission to not be perfect. "I feel like moms put a lot of pressure on themselves to have it all together and know everything," she says, but: "It's impossible."
It definitely seems like it can be difficult balancing the busy schedule of country music superstardom and being a mom to two little boys. Even though she's one of the most famous country stars of all time, Carrie "attends school functions and sports games. She's a regular PTA mom," according to an Us Weekly source.
Maybe we'll even get to see Carrie's kids, Jacob and Isiah, out on tour. Fingers crossed she shares some cute photos!
Photo: Getty
Chat About Carrie Underwood Talks Baby #3: 'I've Always Wanted A Little Girl'