Teen Mom 2's David Eason Admits Shooting & Killing Wife Jenelle Evans' Dog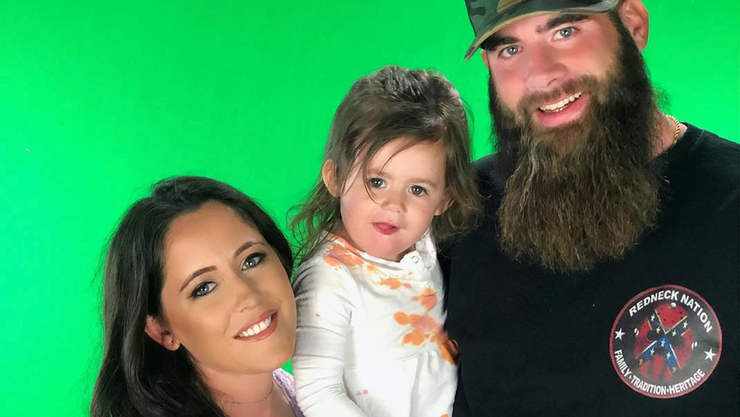 A rumor circulated online yesterday that Teen Mom 2 star Jenelle Evan's husband David Eason shot and killed their family dog. David unapologetically confirmed the story on his Instagram story, claiming the French Bulldog, named Nugget, "aggressively" bit his 2-year-old daughter Ensley.
"I dont give a damn what animal bites my baby on the face… whether it be your dog or mine, a dog is a dog and I dont put up with that sh*t at all," David posted on Instagram. "I'm all about protecting my family, it is my life's mission. Some people are worth killing or dying for and my family means that much to me. You can hate me all you want but this isn't the first time the dog bit Ensley aggressively. The only person that can judge weather or not a animal is a danger to MY CHILD is ME."
Though David appears to have no regrets about the situation, Jenelle appears to be devastated about what happened. She posted a loving tribute to Nugget on her own account, saying she's "devastated" and "heartbroken."
Nugget... I'm crying everyday. I love you so much and I'm so sorry. I'm speechless. You were my side kick and knew the moment I felt bad and would cuddle with me. You still had a lot to learn and a lot to grow from your lessons. Everyday I wake up you're not here, when I come home you're not here, when I go to bed... you're not here. You're gone forever and there's no coming back.
According to Radar Online, The Columbus County Sheriff's Department received a call and "it was relayed that the woman's husband had killed her dog." The Sheriff's Department also confirmed to Radar that they are currently "investigating" the incident. Jenelle does not appear to be the one who made the 911 call. It's being reported the call was made by a male.
Jenelle and David appear to have brought Nugget into their family less than a year ago, introducing the pup to their followers on August 15, 2018 with a slideshow of pictures where Nugget looks out a car window.
Photo: Getty
Chat About Teen Mom 2's David Eason Admits Shooting & Killing Wife Jenelle Evans' Dog