Blackpink Bring Their K-Pop Appeal (And Dua Lipa) To Energetic Newark Set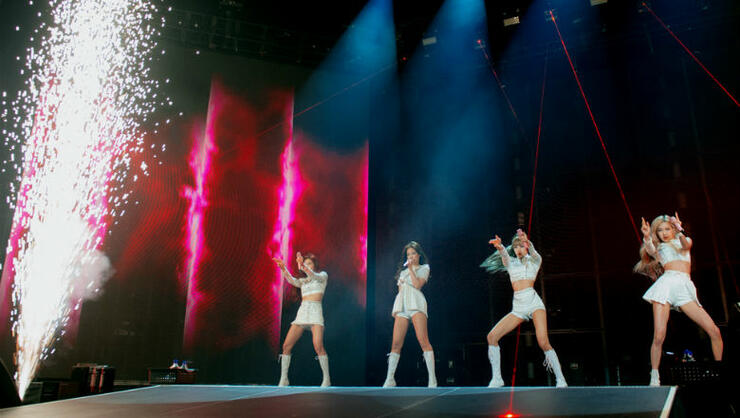 Believe the hype: BLACKPINK have studied the Pop Star 101 handbook and their intent to conquer America is very real. For their first of two shows at the Prudential Center in Newark, New Jersey on Wednesday (May 1), the K-pop group offered up allure, technique and friendly ties to Dua Lipa as part of their latest date on their "BLACKPINK World Tour (In Your Area)" and show no signs of stopping.
Around 8:20 PM, the neighboring New York City arena packed heavy with fans, otherwise known as Blinks, and turned into a central hub, full of genre-mashing hits, light sticks, choreography, wardrobe changes, moveable staging, LED screens, pyro and basically everything you'd expect from a pop set nowadays. However, BLACKPINK offered something different in comparison to sets by some of America's pop titans. Jisoo, Jennie, Rosé and Lisa went beyond the standard perimeters of what we know to be an pricey production and brought a sense of representation to the audience, which — you guessed it — was filled with plenty of Asian attendees. Ironically, it couldn't have fallen on a better day than the kickoff of Asian Pacific American Heritage Month.
Beginning with their breakout hit, "DDU-DU DDU-DU," the quartet swept through cuts like "Forever Young," "STAY" and "Whistle" with cohesive dance routines, while acknowledging that part of their brand's magic involves shining as individuals. Halfway into the show, the group delivered as solo acts, a tactic that seems healthy but expected for girl groups in 2019. While Rosé offered up covers of The Beatles "Let It Be" and Park Bom's "You & I," Lisa commanded the catwalk set-up with a ferocious PG-13 dance number to Jason Derulo's "Swalla." Meanwhile, Jisoo handled her best with a rendition of Zedd's "Clarity," before Jennie offered the audience with her appropriately fitting single, "Solo."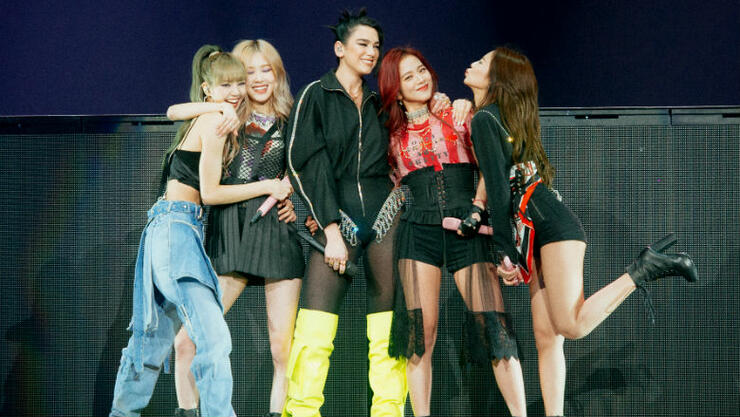 For what was likely their only opportunity they'd cross paths, the group also invited Dua Lipa to their show for their debut performance of their collab, "Kiss and Make Up." As if she was the fifth member of the collective, the two acts played flirty and friendly (just as the song suggests) with one another, but the admiration seemed more than just for show. "On my God. We're so, like, starstruck right now," Jennie told the crowd, before Rosé admitted that the number will probably her highlight from the night. "This was crazy," she added. Plenty other numbers like "Kill This Love," "Kick It" and "BOOMBAYAH" dipped in and out of the English language, but the pop star's presence on "Kiss" specifically helped open the band up to folks that might not be on board with the K-pop craze. America has depleted us of female collectives and what this South Korean girl group provided goes beyond the sing and dance formula that their predecessors offered. Interludes and shine for the band occasionally filled the almost-two hour set, but the mission statement behind BLACKPINK was felt, seen and heard early on. You don't need to be fluent in Korean to get BLACKPINK. K-pop (and pop phenomenon in general) has always been more rooted in that deep rush of excitement that fills your body as your favorite act hits the stage.
"Tonight has been really, really special for us. Being on the stage with all the girls and performing with Dua Lipa was a dream come true," Rosé told the crowd towards the end of the show. "She was amazing, right? This is quite the mood. Thank you for everybody for being part of it. You guys are amazing. I think today, again, will be an unforgettable one."
After more than an hour of synchronized choreography, the encore of the set brought us exactly where we started: "DDU-DU DDU-DU." Instead of the standard rendition, a harsh, bass-heavy remix filled the arena as the four-piece appeared in their own merchandise t-shirts and showed love to the pack of Blinks clustered around the stage. Afterwards, they ended the two-song encore with "Hope Not," a tender love ballad featured on this year's Kill This Love EP. Ending on a slow-pace might have seemed odd for the curious concert-goers who filled the Prudential Center, but for Blinks, the ballad showed off their soft side and that seems to be just as important as the razzle dazzle spectacle or any YouTube record they might break in the future.
Chat About Blackpink Bring Their K-Pop Appeal (And Dua Lipa) To Energetic Newark Set