Geddy Lee Grew Up With "Horror" Of His Parents' Holocaust Survival Story
By Andrew Magnotta @AndrewMagnotta
May 2, 2019
Rush front man Geddy Lee says there was never much mystery surrounding his family's experiences in Nazi concentration camps during the Holocaust.
Lee's parents survived two of the most infamous Nazi death camps: Auschwitz and Bergen-Belsen. Their children were never allowed to forget it, either.
The Rock and Roll Hall of Famer told Q104.3 New York's Shelli Sonstein in an interview for Holocaust Remembrance Day that he's ultimately grateful to know his parents' story, as a child he was haunted by it.
"My earliest memories were my mother talking about the war and talking about Hitler and talking about what had happened to her family," Lee explained. "My dad was not a big talker about that period, and he passed away when I was about 12 years old. But I remember my mother constantly reinforcing the idea that we had to keep the family together because these terrible things can happen."
Lee says his mother and grandmother led the charge in passing on the family's story in brutal detail. The bassist jokes that he "could have turned out to be a real mental case" based on all the fear and violence he learned about at such a young age.
"[My mother] believed in sharing everything she experienced," he continued. "Now, it gave me nightmares as a child, and I'm sure my brother and sister had the same thing. My brother was too young to remember a lot of this. But my sister is two years older than me. So we grew up with the same horror that [our mother] had survived, and we felt blessed that we still had her in our lives."
Lee says his family's Holocaust story is an important one, and it's led to some positive things in his life: a better understand of his family, close friendships with other children of survivors and a handful of songs.
He also credits his mother with instilling in him a work ethic, which helped him succeed in music, and a "liberal" mind, which he says has helped him embrace and enjoy other cultures during his world travels.
"Some parents don't like to re-live the past," he said. "I'm thankful my mother wasn't afraid to do that because I grew up with a better perspective on things."
You can watch the full interview in the player above or listen to it here.
Photo: Getty Images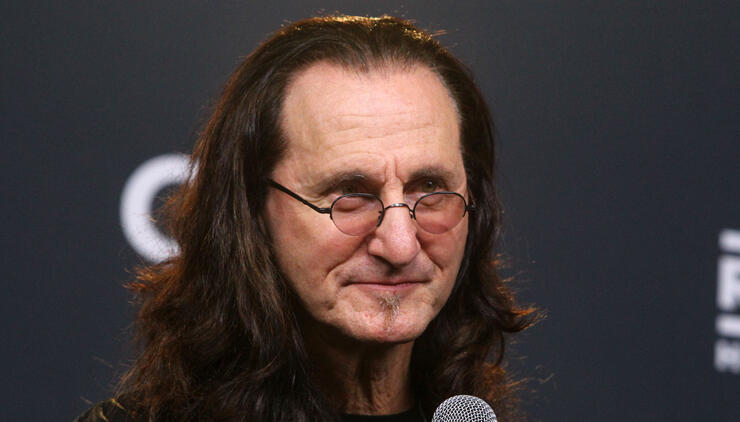 Chat About Geddy Lee Grew Up With "Horror" Of His Parents' Holocaust Survival Story