Judah & The Lion Ignite Dance Party At iHeartRadio Album Release Show
By Katrina Nattress
May 2, 2019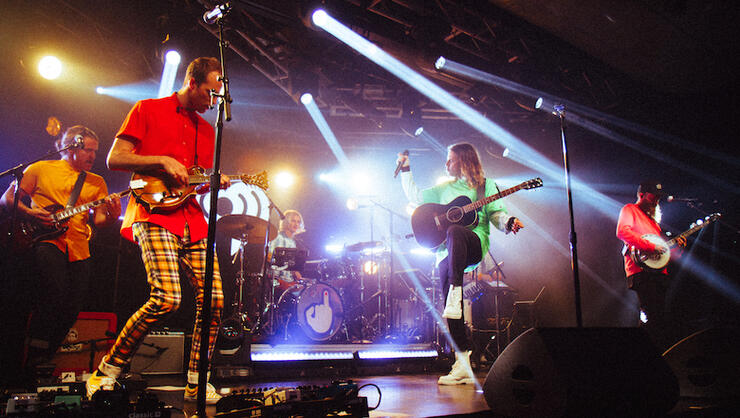 On the eve of the release day for Judah & The Lion's third studio album, Pep Talks, the band celebrated with an intimate album release party in New York City. The folk rockers treated fans to a rousing 11-song set that included six tracks off the upcoming project, as well as a few fan favorites, a cover of blink-182's "All The Small Things" and two versions of their hit single "Take It All Back," because why not?
They started the night out with "Suit and Jacket" off 2016's Folk Hop N' Roll. "Make yourselves at home and get a little rowdy," frontman Judah Akers encouraged the crowd midway through the song. He let loose from the first chord and by the end of the song was out of breath. "I'm gonna be out of breath after every song," he joked.
The band formed nearly a decade ago, but it wasn't until the last few years that they began receiving the recognition they deserve. "I think being in other cities and hearing our songs for the first time was an unbelievable experience," Akers said when asked when he knew thing's were different for them in terms of success. Before jumping into Pep Talks single "Over My Head," Akers explained how singing the song to an audience gives him a sense of "solidarity," and it was palpable during their performance.
Pep Talks is an extremely personal album to Akers, who recently endured his parents getting a divorce. The stories in these songs touch on how the 28-year-old dealt with the catastrophic change in his family dynamic. "I tend to be a bottler of my emotions, and it would come out in bad ways as a kid," he admitted between songs. But music's helped. "It's an extremely healing process to me. This record is kind of a gift to me, to get it out into the world."
He then went on to gush about working with Kacey Musgraves ("Pictures") and Jon Bellion ("Passion Fashion") on the album before jumping into the band's latest single, "Why Did You Run?" "We wanted people to dance through it," Akers explained about the song's juxtaposing lyrical content and danceworthy music, "because that's what people have to do with pain sometimes."
Pep Talks is 17 songs long, and there's nothing Akers would cut. "It would have felt incomplete," he confessed. Each song is crucial to telling the story he wanted to tell. After playing another old song, "Going to Mars," and "Take It All Back" for the first time, Judah & The Lion dove into some new songs off the album—"Quarter Life Crisis," "7000x," "Don't Mess With My Mama," and "Alright"—with the blink cover sandwiched in between.
The trio ended the night with a remix of "Take It All Back" that turned into an all out dance party. Akers ended up in the audience, dancing along with fans and giving out hugs along the way.
Pep Talks come out at midnight on May 3. Judah & The Lion head out on a massive world tour later this month. Check out tour dates here and peep the full set list from tonight below.
Judah & The Lion Pep Talks Album Release Show Set List
Suit and Jacket
Over My Head
Why Did You Run? 
Going to Mars
Take It All Back
Quarter Life Crisis
7000x
All the Small Things (cover)
Don't Mess With My Mama
Alright
Take It All Back (Remix)
Photo: Andy Deluca for iHeartRadio
Chat About Judah & The Lion Ignite Dance Party At iHeartRadio Album Release Show