Phillies Fans Are Booing Bryce Harper One Month Into His 13-Year Deal
By Bill Galluccio
May 2, 2019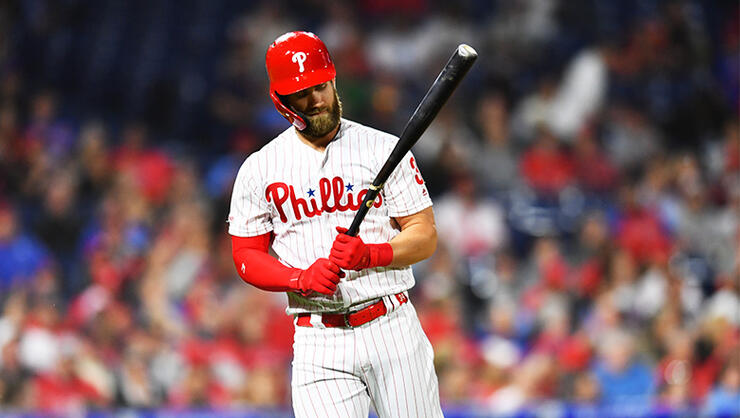 Philadelphia Phillies fans were not happy with their newest superstar, Bryce Harper, following a rough game against the Detroit Tigers. Harper struck out twice during the 3-1 loss and had an error in the field.
After he struck out in the eighth inning, he was showered with boos from the hometown fans as he walked back to the dugout.
Harper, who just signed a 13-year, $300 million contract, has cooled down after a hot start to the season. He has just three hits in his last 32 at-bats dating back to April 21. During that time he has hit just one home run.
After the game, Harper told reporters that the reaction from the fans was justified.
"I'd do the same thing," he said. "It's not fun to lose, not fun to watch when you're playing that way. (I was) 0 for 4 with two punchies. I'm probably thinking the same thing walking back to the dugout."
Harper was asked if he thinks his struggles could be related to the pressure of signing a large, long-term deal with the team.
"Nah, I mean, my work's the same every day," Harper replied. "I feel good in the cage, feel good going about it each day. But like I said, can't miss pitches over the plate. I'm getting some pitches to hit over the plate. Got to be better."
Despite Harper's struggles at the plate, the Phillies are still sitting atop the National League East standings with a record of 17-13.
Photo: Getty Images
Chat About Phillies Fans Are Booing Bryce Harper One Month Into His 13-Year Deal