Florida Georgia Line Surprises iHeartCountry Fest With Morgan Wallen Collab
By Hayden Brooks
May 4, 2019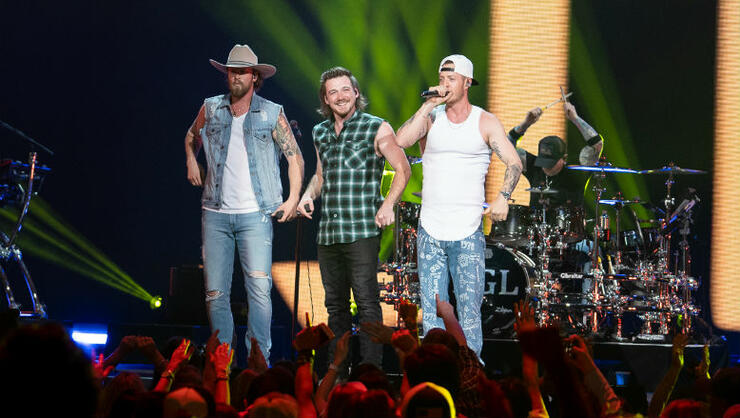 Florida Georgia Line took to the 2019 iHeartCountry Festival presented by Capital One® in Austin, Texas for the splashiest set of the evening and the country titans reunited with Morgan Wallen during the seven-track performance, which was introduced by host Bobby Bones and LoCash.
As the only set to include extra production sparkle like pyro and fire, Tyler Hubbard and Brian Kelley brought plenty of hits to the Frank Erwin Center on Saturday night (May 4) like "Colorado" and "Cruise," but the duo also showed love to their newest single, "Y'all Boys," which they've only performed a handful of times and is meant as a true anthem for a certain kind of country guy. "Talk You Out of It," "Simple" and their record-breaking Bebe Rexha collab, "Meant To Be," were also part of the setlist, but the pair surprised fans most when they reunited with Daytime Village performer Wallen for their closing number.
"Get loud for Morgan Wallen, everybody. Let's turn this sh*t up," Hubbard told the crowd, before introducing their former collaborator to sing 2017's "Up Down," as fire shot up from the back of the stage. The dynamic between Hubbard and Kelley is crystal clear, but it seems like Wallen also shares that same kind of bromance, as per their on-stage chemistry.
After taking a quick look at the duo's discography, it's clear to see that the two have teamed up with plenty of different collaborators throughout their career, but their openness to working with acts outside of the country realm might have something to do with their wives, who have helped them "evolve into men" over the years. "You start to become a little bit more responsible for what you've built," Tyler explained of their early career legacy during a recent chat with their record label, Big Machine. "And then our wives come in the picture and the whole thing changes another 180 degrees to where they kind of help us evolve into men, into grown-ups that look at life from a grown up perspective and a different responsibility as humans that have been really blessed."
If you liked what you saw from the Bobby Bones-hosted festival, head on over to iHeartRadio.com/CountryFestival to see all the happenings on stage and backstage of the star-studded show!
Photo: Ismael Quintanilla for iHeartRadio
Chat About Florida Georgia Line Surprises iHeartCountry Fest With Morgan Wallen Collab