Most Popular Funeral Songs Are By Led Zeppelin, Queen
By Andrew Magnotta @AndrewMagnotta
May 6, 2019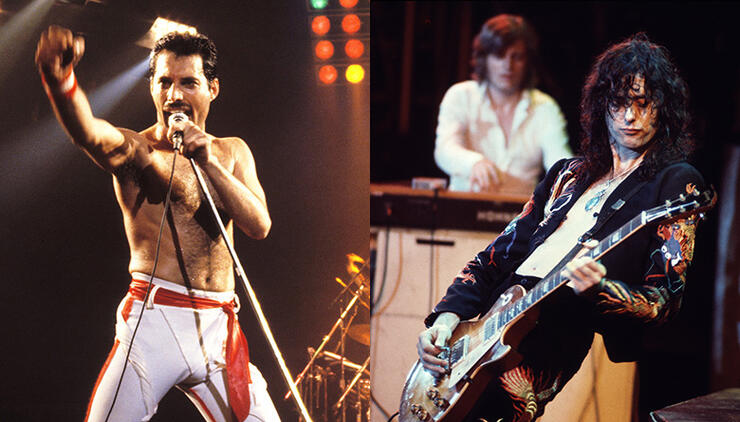 You've heard of of the Top 200 and the Heatseekers chart, but how about the Funeral 40?
A new report from a U.K.-based funeral provider details the songs most often played at memorial services.
On the rock chart, it's little surprise that Led Zeppelin's "Stairway To Heaven" holds the No. 1 spot — despite the song not really being about death and including the phrase 'There's still time to change the road you're on'. But it gets pretty interesting after that.
There are plenty of ballads on the list, but it seems rock fans use music at funerals to undermine the morose affairs. The second most popular funeral song is Meat Loaf's "Bat Out of Hell." AC/DC's "Highway to Hell" is No. 8 on the list.
Queen's "Another One Bites the Dust" is a longtime favorite, along with "Bohemian Rhapsody." But Co-Op Funeral Care reports that two other Queen songs have also popped up on the list, "Who Wants to Live Forever" and the Freddie Mercury swan song, "The Show Must Go On."
"Each element of a funeral is a very personal decision, which is why the music choice plays such an important and impactful role," said Co-Op's director of funerals, David Collingwood.
The company added in the report that research suggests over half of adults believe music is important at memorial services, providing a feeling of nostalgia.
One third of adults say music at funerals makes people sad, another third say it makes people happy. About 14 percent said music makes people laugh, and 27 percent said they would want to make people laugh at their own funerals.
Co-Op says there is a trend in contemporary funeral services of making them "more of a joyful celebration."
Across all genres, Frank Sinatra's "My Way" remains the most popular song to be played at funerals.
Top 10 Funeral Rock Songs
Led Zeppelin - "Stairway to Heaven"
Meat Loaf - "Bat Out of Hell"
Aerosmith - "Don't Wanna Miss a Thing"
Queen - "Who Wants to Live Forever"
Queen - "The Show Must Go On"
Bob Dylan - Knockin' on Heaven's Door"
Pink Floyd - "Wish You Were Here"
AC/DC - "Highway to Hell"
Queen - "Another One Bites the Dust"
Queen - "Bohemian Rhapsody"
Photo: Getty Images
Chat About Most Popular Funeral Songs Are By Led Zeppelin, Queen