Final Predictions For Meghan Markle & Prince Harry's Son's Name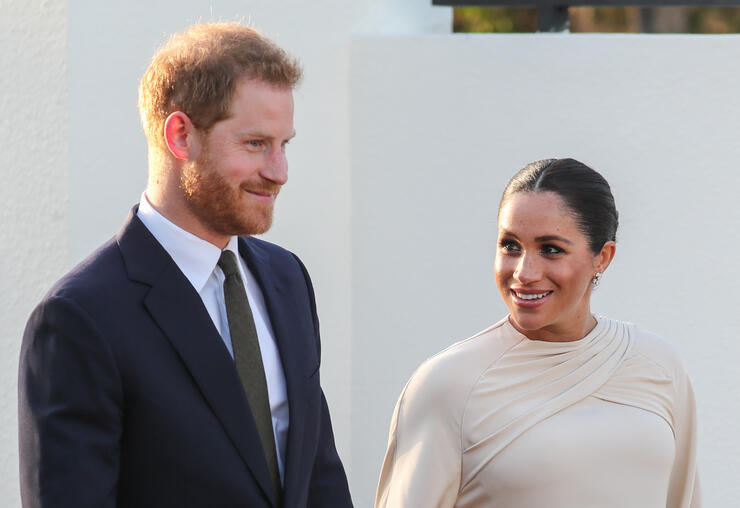 Baby Sussex is finally here! Meghan Markle and Prince Harry welcomed their first child together on Monday (May 6) and nobody was more excited than the new dad. The Duke of Sussex gushed over his son shortly after his arrival, saying: "I'm very excited to announce that Meghan and myself had a baby boy this morning, a very healthy boy. Mother and baby are doing incredibly well. It's been the most amazing experience I can ever have possibly imagined. How any woman does what they do is beyond comprehension, but we're both absolutely thrilled and so grateful for all the love and support of everybody out there. It's been amazing, so we just wanted to share this with everybody."
Despite sharing Baby Sussex's birth with the world, Prince Harry revealed they were still thinking about names for the newborn. Betting on royal baby names is quite popular across the pond and professional oddsmakers even successfully predicted Princess Charlotte's name before it was officially announced. With just one day to go (hopefully) before Harry and Meghan reveal their baby's name, some interesting contenders have jumped to the top of the list. According to professional oddsmakers William Tell, here are the top 10 potential names for Baby Sussex:
10) Grey (20/1)
9) Oliver (16/1)
8) Gregory (16/1)
7) Theodore (12/1)
6) Philip (10/1)
5) Albert (8/1)
4) Arthur (6/1)
3) Alexander (5/1)
2) James (5/1)
1) Spencer (4/1)
Since Baby Sussex is seventh in line for the throne, Meghan and Harry are under less pressure to pick an ancestral name. Some Windsor family names are on the list, of course, including Albert, Philip, James, and Arthur. The most popular choice right now is a subtle, sentimental nod to Harry's late mother Princess Diana. Before marrying Prince Charles, her name was Lady Diana Spencer. What do you think Meghan and Harry will name their little one?
Photo: Getty
Chat About Final Predictions For Meghan Markle & Prince Harry's Son's Name