Journey Announces Fall Concert Dates
By Andrew Magnotta @AndrewMagnotta
May 7, 2019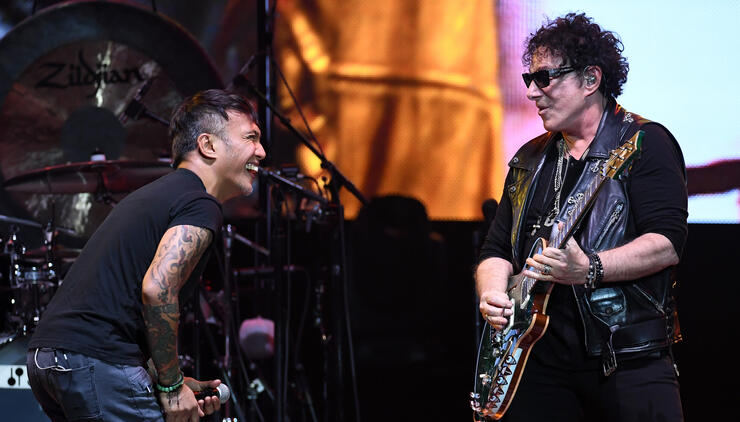 Journey has clarified its live concert plans for later this year.
Before the band's residency at the Colosseum at Caesars Palace begins, Journey will make a handful of stops at East Coast venues.
Founding guitarist Neal Schon hinted earlier this year that his legendary band had plans beyond its Vegas residency, and now we know what he was referring to.
So far, it looks like Journey is only performing at casinos this year. On September 27, the band will play the Hard Rock Live at Etess Arena in Atlantic City, NJ, September 27 - 28. Then, the Rock and Roll Hall of Famers will take the show on the road to Sands Bethlehem Event Center in Bethlehem, PA, on October 1 and then Seneca Niagara Resort & Casino Event Center in Niagara Falls, NY, on Oct. 2. October 4 and 5, the band will perform at Mohegan Sun Arena in Uncasville, CT.
Then it's off to Vegas from Oct. 9 - 26.
This year has long been planned as one of low activity for Journey, with both Schon and keyboardist Jonathan Cain focusing on other projects this year.
See all of Journey's 2019 live dates below. Go here for tickets and more information.
Journey 2019 U.S. Tour
9/ 27 — Atlantic City, NJ @ Hard Rock Live at Etess Arena
9/ 28 — Atlantic City, NJ @ Hard Rock Live at Etess Arena
10/1 — Bethlehem, PA @ Sands Bethlehem Event Center
10/2 — Niagara Falls, NY @ Seneca Niagara Resort & Casino Event Center
10/4 — Uncasville, CT @ Mohegan Sun Arena
10/5 — Uncasville, CT @ Mohegan Sun Arena
10/9 — Las Vegas, NV @ The Colosseum at Caesars Palace
10/11 — Las Vegas, NV @ The Colosseum at Caesars Palace
10/12 — Las Vegas, NV @ The Colosseum at Caesars Palace
10/16 — Las Vegas, NV @ The Colosseum at Caesars Palace
10/18 — Las Vegas, NV @ The Colosseum at Caesars Palace
10/19 — Las Vegas, NV @ The Colosseum at Caesars Palace
10/23 — Las Vegas, NV @ The Colosseum at Caesars Palace
10/25 — Las Vegas, NV @ The Colosseum at Caesars Palace
10/26 — Las Vegas, NV @ The Colosseum at Caesars Palace
Photo: Getty Images
Chat About Journey Announces Fall Concert Dates