Tyra Banks Comes Out Retirement To Cover Sports Illustrated Swimsuit 2019
By Lauren Crawford
May 8, 2019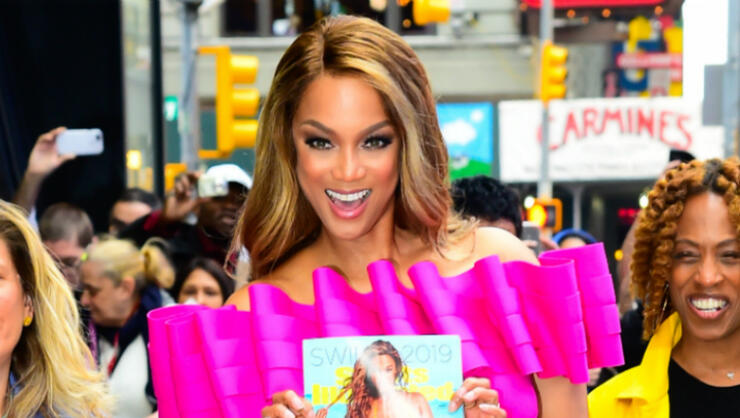 Tyra Banks, and her signature smize, are back!
The 45-year-old model turned entrepreneur came out of modeling retirement to cover the 2019 Sports Illustrated Swimsuit edition, more than two decades after she became the first black woman to grace the cover of the magazine alone in 1997.
Tyra brought back her famous curves for the 2019 SI Swimsuit photo shoot, posing in a yellow string bikini for the cover. (And let me just say, she's still got it!) "My first one was 23 years ago, how crazy is that," Tyra said on Good Morning America after revealing her new SI Swimsuit cover. "I'm like damn — I'm 45 dog!"
The TV host also spoke about her modeling journey in a behind-the-scenes video of her Bahamas photo shoot. "Being the first black woman on the cover, I didn't dream it because I never thought it would be possible," she explained. "Almost like this, I never thought it would be possible to be 45 years old and on the cover of this magazine again."
Tyra's new SI Swimsuit cover marks her third for the magazine as she first starred on the cover of the special Sports Illustrated Swimsuit edition in 1996 alongside model Valeria Mazza before getting her solo cover in 1997.
"Since Tyra's first cover in 1996, she's transformed herself into nothing less than a mogul, a cultural force and a supernova of inspiration and empowerment," SI Swimsuit Editor MJ Day said, per People. "She's kind of the Swimsuit Issue ethos come to life, everything we know this franchise can be."
In addition to gracing the cover of the 2019 issue, Tyra also recreated her 1996 cover, where she wore a polka dot bikini, for the new issue's photo spread. "We couldn't find the exact one in the archives – it was the polka dot bikini so we recreated that bikini," she shared. "I recreated [the look] — 25 pounds heavier."
Tyra is one of the three faces gifted an SI Swimsuit cover this year. USA National Women's Soccer team player Alex Morgan, and 2018 SI Swimsuit Model Search winner Camille Kostek were also honored with their own cover.
"The three women that make up the covers of the 2019 Sports Illustrated Swimsuit Issue represent the brand in the most powerful way possible," MJ said. "While each individual woman is so unique, they come together cohesively to tell a spectacular story."
Photo: Getty Images
Chat About Tyra Banks Comes Out Retirement To Cover Sports Illustrated Swimsuit 2019