Anderson .Paak Says He Feels Closure Ending His Beach Series With 'Ventura'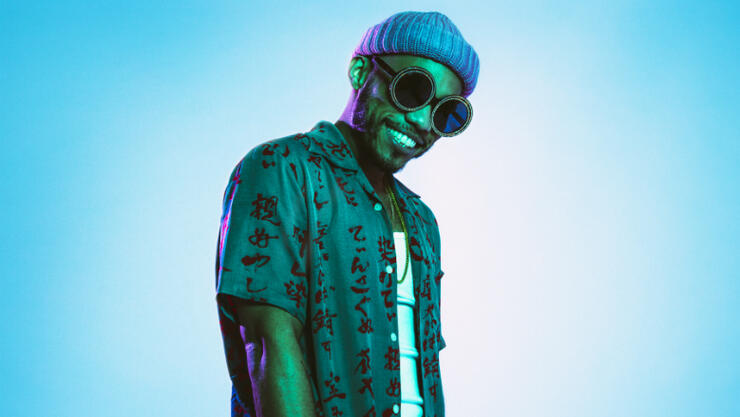 Anderson .Paak makes no exaggeration with the title of his upcoming "Best Teef in the Game Tour" and he has plenty of reason to share his pearly whites. After scoring his first Grammy win in February and dropping his latest album, Ventura, less than six months after its predecessor, the accolades keep on racking up for the 33-year-old genre-crossing hybrid, but he wants to aim higher.
With his eye for optimism, an interest in expanding the conformities of hip-hop and, most importantly, the raw talents that helped sealed his deal with Dr. Dre's Aftermath Entertainment, Paak is on the up rise and his most recent release brings a sense of closure for the star. After his 2014 debut, Venice, and its successors, Malibu and Oxnard, Ventura wraps out his much-revered beach series, giving the man behind the "Yes Lawd!" slogan a sense of accomplishment in his SoCal roots. It's a track record that some musicians can only dream of, especially in the span of five years, but the hustle keeps on going and he's not even flinching at his past.
Paak recently stopped by iHeartRadio to discuss his new album, which features collaborations with everyone from André 3000 to Smokey Robinson, the transparent dynamic that comes with working alongside Dre and what keeps his ever-contagious optimism running at all times.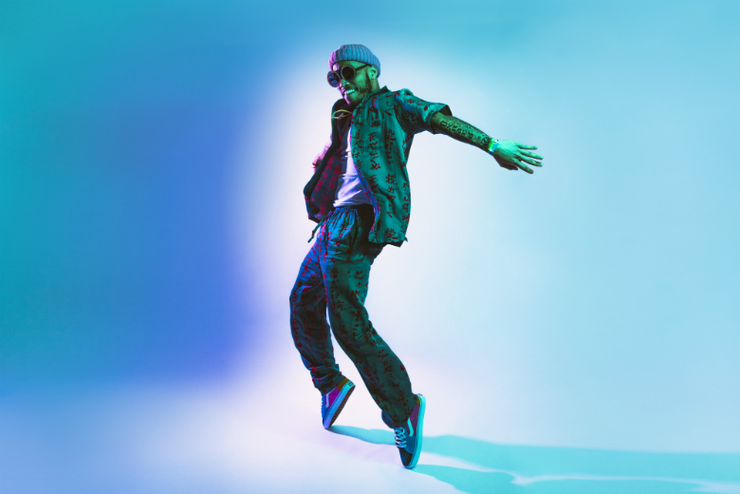 Talk to me a little bit about supporting Pharrell with his "Something in the Water Festival."
Pharrell is an icon. He's like one of my biggest inspirations, so it was dope to be part of his first festival, "Something in the Water." The black people weren't in the water though. It was black people close to the water festival. I met Teddy Riley, Uncle Charlie Wilson and just the OG's were there. It was sick. Chris Brown, Sean Love and it was really big for the city. I felt like the city was really appreciative of the festival because they don't really get stuff like that.
You recently performed at Coachella and the new album just dropped. How do you control the pace of everything?
I try to go with the flow. I just try to pace myself [and] try and get some rest. [I] drink plenty of water and just appreciate the moment because when its happening, its like a blur. Sometimes you just try to take it in like, "Damn, you dropped the album, playing festivals, headlining and the album's doing good." It's just taking it in once in a while [and] being appreciative of everything.
Ventura was released less than five months after last year's Oxnard. The initial concept was to releasing a dual album. What inspired you to want to put them out at the same time?
Dre wasn't having it. He was like, "Hell no" and I just had to go back and forth with him like "Come on. Let's do two albums right away." I had one album but he thought it was 80 percent done, so then I was like, "I'm going to split it up because it's starting to kind of sound different." I was like, "One will be gritty and one will be pretty." He was like, "Lets just do one" and I said, "Trust me. We're going to have to do another one right after anyway. Once this one comes out, they're going to want some more soul stuff."
I talked him into it and the label and Dre felt like it was a lot of content to drop on people at once. I was like, "Okay, cool." So we just came to a compromise. "Let's just get the material out close to Coachella time and it should be good timing." I'm glad it happened that way.
How do you navigate the soundscape when you're in the studio and these two projects start to take different feels?
With all the beach albums, I just recorded a bunch of material and just kept the best material that I felt represented the time I was at [and] caused the same reactions and was just the cream of the crop. With Oxnard and Ventura, we cut over 100 songs and just kept the cream of the crop.
Once I saw what I was writing about, I started to see what the two albums were about. Oxnard was about enjoying the fruits of the labor; same man, new car, he's working with Dre and all top-notch production. It's a big ambitious album. Both of them are really big ambitious albums, but we were living in it in Oxnard. Ventura is supposed to be something sweet, something beautiful, kind of like reflecting on everything from Venice to Malibu, Oxnard and now appreciating things that are important: family, friends, food, tequila.
Dr. Dre gave you a little bit more freedom with Ventura. What is the most important thing you've learned from his studio hustle?
Just not to settle, you know what I'm saying? Just pushing for greatness. Not doing anything you don't want to do and knowing when it's not right. He's really good at that. If he doesn't like it, he doesn't like it. If he loves it, he loves it. There's no in between. I can kind of be like "Hmm" [and] feeling it out. He's just very trust his gut. That is something I feel like changed me after working with him.
There are lot of collaborations on the LP. We kick things off with André 3000 on the opener, "Come Home." He's obviously more reclusive nowadays. How did you go about working on that one?
A lot of patience. [I] just had to talk him into it. He's like Dre. They just don't want to put anything wack out. He will do a whole album within a verse when he finally does get you something. He came to the studio three different times and listened to both albums [and] picked out four or five songs. We waited like 8 hours and was like, "He's going to drop some crazy sh*t" and he came out and said, "Okay, I think tomorrow I'll be ready" and we were like, "Alright." Tomorrow came and another 8 hours, "Alright. Tomorrow is the day" and the next day he didn't show up and the next week, and I just gave up hope and then eventually he just sent it in and it was crazy. The verse was so crazy and then we were getting close to the time to put it out and he hit me and was like, "I don't think this is good. I don't think I'm going to do it." And I'm like "What!?" Me, Dre, everybody else had to convince him that "Yo, this is dope. Trust me, Andre, you're dope. This is amazing." He hit me up after just really happy that it went through.
This is the last album that you're going to dedicate towards the beach series. What is the most important thing you've learned from this series?
I just like the fact that we were able to just do everything. I've always been about having a wide range and being someone that is not boxed in by one genre or one style. We got to cover damn near everything except for country music on this beach tour. With Ventura, it's almost like some closure and, like I said, reflection and making something sweet. At the end of the day, when you go from Venice, where we were able to songs like "Drugs" with autotune and 808s and "Might Be," and then you get to Malibu, where we are doing more personal songs about how I came up and more soul stuff. Then you have stuff like Oxnard [and] that's like the big production and more rap being/hip-hop based and you have Ventura [where I'm] just chillin' back with our kids like, "Damn, we did that."
I think part of the allure about you as an artist, even personally, is that you're always smiling and there's a lightness to it. Would you say you've been an optimist all of your life? Where do you get that?
I think some people just find a different way to handle things. I have always looked on the bright side and I have a lot of different things happen in my life and sometimes you just have to laugh in order not to cry and that's just it. I always know things can be worse and I've been through worse things, so I'm always never taking things too serious or taking myself too serious and always just looking on the brighter side naturally.
You have the tour coming up in May. What else does 2019 have in store for you?
We've got the tour, the Free Nationals projects, crazy; everybody on that project. So we are pushing to get the next single out for that. What else? I think that's about it. And get home, watch these kids. My son won't even look at me. He's like brand-new. He's almost two and like, "Who the hell are you?"
This interview has been edited for context and clarity.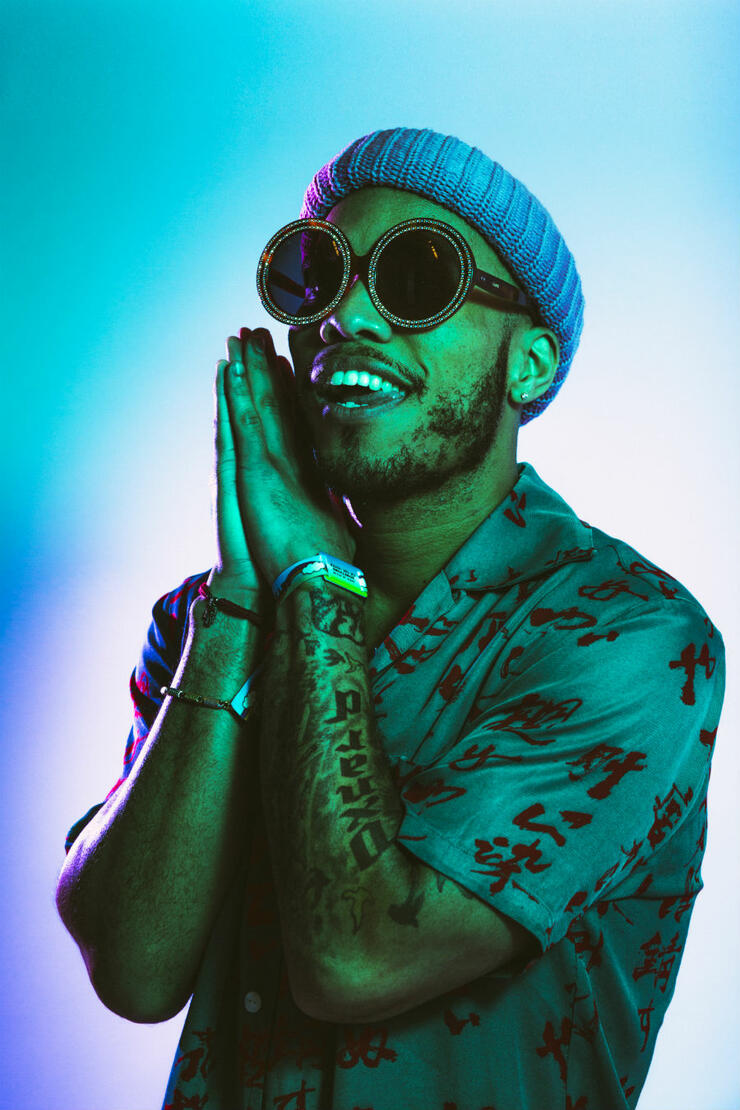 Photo: Katherine Tyler for iHeartRadio
Chat About Anderson .Paak Says He Feels Closure Ending His Beach Series With 'Ventura'