Drake Gives A Tour Of His $100 Million Private Jet
By Lauren Crawford
May 10, 2019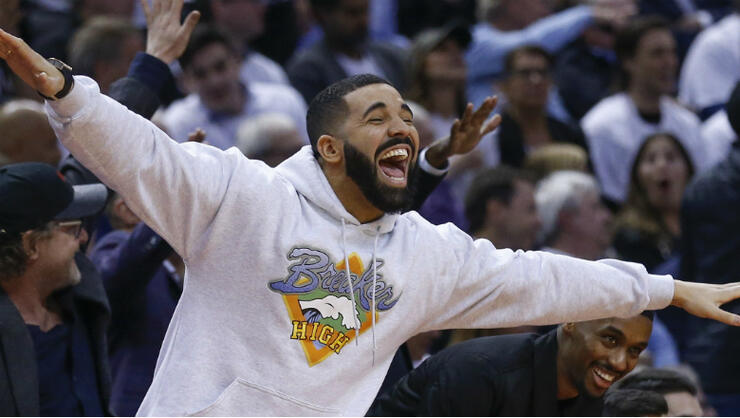 Aubrey Drake Graham is living his, and I can't emphasize this enough, BEST life!
The 32-year-old rapper shared a video of his truly massive private, custom-designed plane to Instagram on Friday (May 10), and fittingly captioned his post, "Nothing was the same for real...🤯🦉." The one minute and 32-second clip featured Drake touring (and showing off) his Boeing 767 that is reportedly worth between $80 and $100 million.
"No rental, no timeshare, no co-owners," Drake said in the clip, confirming that he owns the custom jet outright.
The exterior of Drizzy Drake's plane features the words "Air Drake," as well as his signature OVO owl and prayer hands logos. As for the interior, it holds multiple plush couches and chairs as well as large flat screen TVs. Also shown in the video was Ajay Virmani, president & CEO of Cargojet Airways, who Drake says is "the man" who made it all happen. According to The Blast, Drake's new plane is "part of a partnership he just locked down with a Canadian cargo company."
The Canadian rapper's friends were first to congratulate him on his multi-million dollar ride. "I remember you [told] me this 2 years ago," DJ Khaled commented. "Wow congrats my brother."
"WOW!!!! I THINK I NEED TO START WORKING ALOT HARDER ASAP!!!😂😂😂. Congrats bro - that's 🔥🔥🔥," Michael Rubin wrote.
"Wherever you're going I'm headed that way," Bun B added.
Rich the kid also commented, writing, "Nah, this is motivation..."
Lil Yachty then brought the jokes, commenting, "I know the bathroom gone be dumb nice."
Photo: Getty Images
Chat About Drake Gives A Tour Of His $100 Million Private Jet