'Empire' To End After Season 6
By Lauren Crawford
May 13, 2019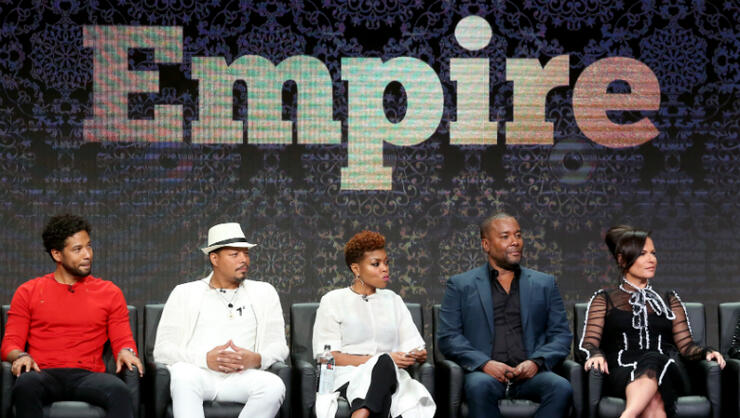 Empire is coming to an end.
On Monday (May 13) Fox announced that the drama-filled series' upcoming sixth season will be the show's last.
"We're turning the final season of Empire into a large television event. If you look at what we're doing with Empire... we really are trying to go out guns a-blazing," Fox Entertainment CEO Charlie Collier told reporters (via Entertainment Tonight) on a press call. "One of the great benefits of announcing a final season is to allow the fans to lean in and to have the ending they deserve, and that's everything we're trying to do with this iconic series. Six years is a pretty remarkable run for a drama series and we feel good about it."
Charlie added, the final season will be "epic" and filled with even more "shocking surprises and jaw-dropping moments." However, one of those will shocking surprises will almost certainly not be the return of controversial Empire star Jussie Smollett. When asked if would be returning for a final farewell, the Fox Entertainment CEO said, "At this point, we have no plans for that. The writer's room for next season hasn't even gathered yet."
News of Empire's cancelation comes weeks after Fox released a statement saying the 33-year-old actor's contract had been extended, but his return to show was still up in the air. "By mutual agreement, the studio has negotiated an extension to Jussie Smollett's option for season six, but at this time there are no plans for the character of Jamal to return to Empire," the network said in a statement. A spokesperson for Jussie additionally told Variety, "We've been told that Jussie will not be on Empire in the beginning of the season, but he appreciates they have extended his contract to keep Jamal's future open. Most importantly, he is grateful to Fox and Empire leadership, cast, crew, and fans for their unwavering support."
A week prior, Jussie's Empire co-stars wrote a letter addressed to Fox, Disney, and ABC executives, as well as producers of the show, demanding that Jussie's character, Jamal Lyon, return for the upcoming sixth season. "Together, as a united front, we stand with Jussie Smollett and ask that our co-star, brother and friend be brought back for our sixth season of Empire," the letter, which was signed by Terrence Howard, Taraji P. Henson, Bryshere Y. Gray, Trai Byers, Gabourey Sidibe, and Nicole Ari Parker, stated.
As fans know, Jussie was accused of staging a January hate crime against himself for attention and monetary gain. While he was charged with 16 felony counts of disorderly conduct for the alleged staged attack, all charges were dropped against the 34-year-old star Empire star, who has maintained his innocence, in March.
Photo: Getty Images