Felicity Huffman To Plead Guilty In College Admission Scandal: Report
By Paris Close
May 13, 2019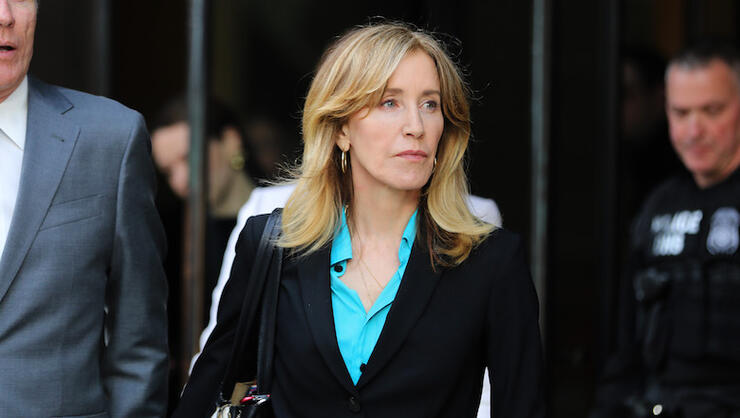 Felicity Huffman will reportedly plead guilty on Monday (May 13) to funding a fake charity that empowered the actress to cheat for her daughter's SATs, CNN reports.
According to a criminal complaint, Huffman allegedly paid $15,000 to a foundation associated with Rick Singer and persuaded college coaches to facilitate her daughter's college admission by dishonestly assigning the girl as a recruited athletes along with several other students. Huffman faces up to 20 years in prison.
The 56-year-old evidently conspired with Singer via e-mail to grant her daughter — who scored 400 points higher (1420 of 1600 points) than her Preliminary SAT exam the year before — more time to take the SAT exam at a location that would be supervised by an administrator whom Huffman had also suborned. The complaint also claims the star could be heard plotting the scheme with Singer in a recorded phone call.
Huffman was among 13 parents who pleaded guilty for conspiracy to commit mail fraud and honest services mail fraud over a month ago. For her plea, federal prosecutors are requesting "incarceration at the 'low end' of the sentencing range, a $20,000 fine and 12 months of supervised release," though a federal judge will make the final decision.
"I am pleading guilty to the charge brought against me by the United States Attorney's Office," Huffman said in her initial statement. "I am in full acceptance of my guilt, and with deep regret and shame over what I have done, I accept full responsibility for my actions and will accept the consequences that stem from those actions."
As you know, Full House favorite Lori Loughlin, who was also among 17 other parents embroiled in the college admission scandal, took a not guilty plea.
Photo: Getty Images
Chat About Felicity Huffman To Plead Guilty In College Admission Scandal: Report