Queen Hasn't Made Any Money Yet From 'Bohemian Rhapsody'
By Andrew Magnotta @AndrewMagnotta
May 13, 2019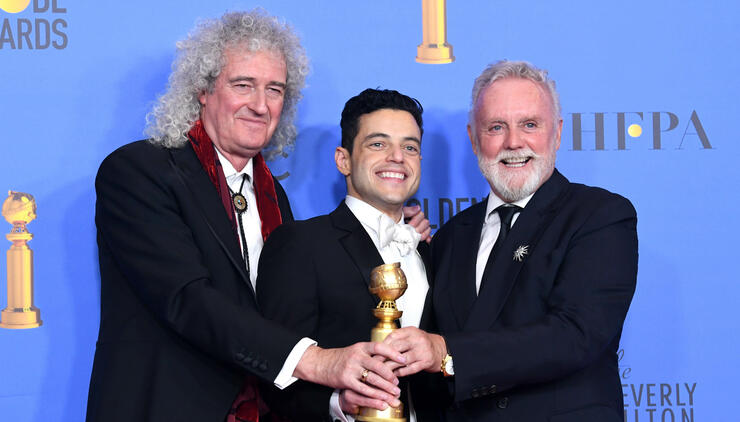 Queen guitarist Brian May isn't sure how much money a film has to make before the big checks start rolling in, but apparently its more than $900 million.
While Queen surely stands to profit on tour and through other avenues from the surprise success of its Freddie Mercury biopic, Bohemian Rhapsody, May insists he, drummer Roger Taylor and retired bassist John Deacon have yet to see "a penny" from the movie's massive box office returns.
May and Taylor worked for over a decade trying to get Bohemian Rhapsody made. They then served as co-executive music producers on set. The film won two Golden Globes and four Academy Awards and pushed nearly $1 billion at the box office. But in a new interview with the BBC, May disputed a Sunday Times Rich List report that stated each band member had earned £20 million (about $26 million USD) thanks to the movie.
The Rock and Roll Hall of Famer began by underlining how his and Taylor's intent with the movie was never to enrich the Queen band members' estates.
"It was a long labor of love — about 12 years in development, I guess," May told Zoe Ball. "We thought it would do well in the end and we felt good about it, but we didn't realize it would do that well."
He then addressed his amusement at the Sunday Times report.
"I had a laugh the other day, because there's a thing in the paper saying that we were getting rich off this movie," he continued. "If they only knew. We had an accountant in the other day, and we still haven't earned a penny from it. How successful does a movie have to be before you make money?"
He added that a lot of other people involved with Bohemian Rhapsody stand to get paid before Queen does.
Ultimately, it's hard to believe May, Taylor and Deacon are going to have to downsize in a post-Bo Rhap world. But May says he's mostly just pleased at how the band was able to tell its story and present Mercury in a "very real" way.
And if they're in need of cash, maybe they can renegotiate their deal next time.
Photo: Getty Images