'Arthur' Introduces A Gay Character During Season 22 Premiere
By Hayden Brooks
May 15, 2019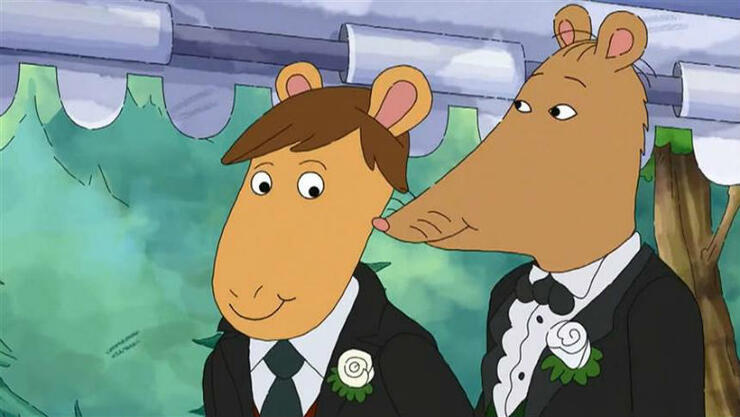 PBS' Arthur is back for its 22nd season and has unveiled that Mr. Ratburn is gay.
In a milestone event for LGBTQ youth in America, the Monday (May 13) premiere of the long-running series titled "Mr. Ratburn and the Special Someone" saw Arthur and friends curiously follow Mr. Ratburn's journey to his wedding. "When they go home, they sharpen pencils, eat kale and dream up homework assignments. They don't even sleep. They just go into low-power mode and watch documentaries," Buster insists at one point in the episode. It's the beginning of what turns out to be a pleasant surprise for the animated pals, but we won't spoil the lead-up to the big reveal.
This isn't the first time that Arthur has dipped its toes in queer culture. During a 2005 episode of the show's spinoff, Postcards From Buster, the rabbit visits Vermont to meet children with lesbian mothers. Similar to the Mr. Ratburn episode, LGBTQ terminology like "lesbian" isn't vocalized, but the animated representation does the trick. In a statement to PEOPLE, the network said the inclusion of Mr. Ratburn's sexuality was crucial in accurately reflecting the "diverse communities" that their children viewers are being raised in. "PBS KIDS programs are designed to reflect the diversity of communities across the nation. We believe it is important to represent the wide array of adults in the lives of children who look to PBS KIDS every day," the network stated. Click here to watch "Mr. Ratburn and the Special Someone" in full!
World Pride 2019 is on its way and iHeartPride is celebrating the monumental June celebration with all kinds of coverage. iHeartRadio, Z100 New York and 103.5 KTU are Presenting Media Sponsors for NYC Pride and we're taking the milestone to heart with LGBTQ-focused coverage on everything from entertainment, politics and details on the summer festivities. After all, it does coincide with the 50th anniversary of the Stonewall uprising. Stay tuned for more on World Pride 2019 and keep an eye out for our float in the Big Apple's all accumulating parade on June 30th!
Chat About 'Arthur' Introduces A Gay Character During Season 22 Premiere