BTS Admit They're 'Honored' To Tie The Beatles' Record
By Hayden Brooks
May 15, 2019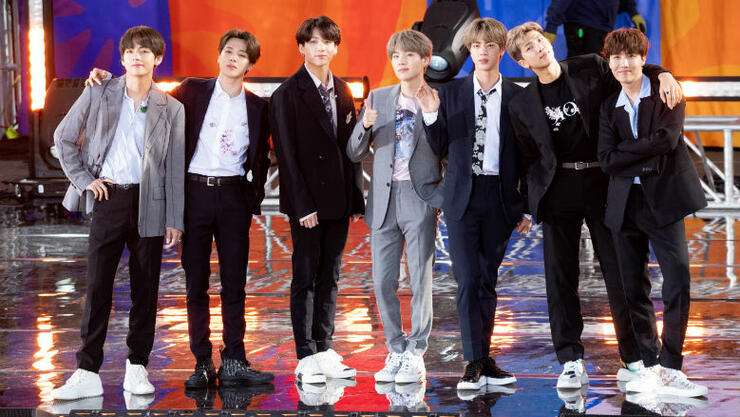 BTS is back in the Big Apple and the K-pop sensation took to Good Morning America on Wednesday (May 15) to kick off their 2019 Summer Concert Series.
For their mini-concert, which included performances of "Boy With Luv" and "Fire," V, Jungkook, Jin, Jimin, Suga, RM, and J-Hope filled Central Park with plenty members of the BTS ARMY, proving yet again what a force they are in America. During the showing, the stars also spoke about becoming the first band since The Beatles to earn three Billboard No. 1 albums in a single year with their latest, Map of the Soul: Persona. "I mean, we're all fanboys of [The] Beatles, of course, who is not," RM said. "We feel so honored to be with the greatest names in the music industry -- we love [The] Beatles, of course."
It's an exciting time for BTS. Not only are they currently making their rounds on a global tour, but the group also recently announced a new single. Last week, they unveiled plans to release new single called "Lights" in roughly two months when the Japanese-language track is matched up with Japanese versions of the previously released songs "Boy With Luv" and "IDOL" for a CD/DVD release. It's set to be accompanied by a music video and "conveys the message of hope that one can connect with the others through sounds and see each other's lights whenever they close their eyes." While the digital release will arrive on July 3 in Japan, the Stateside release should drop by July 2. Come July 5, the physical editions of "Lights" will also be available for fans.