Courteney Cox Shares Never-Before-Seen 'Friends' Photo & It's A Must See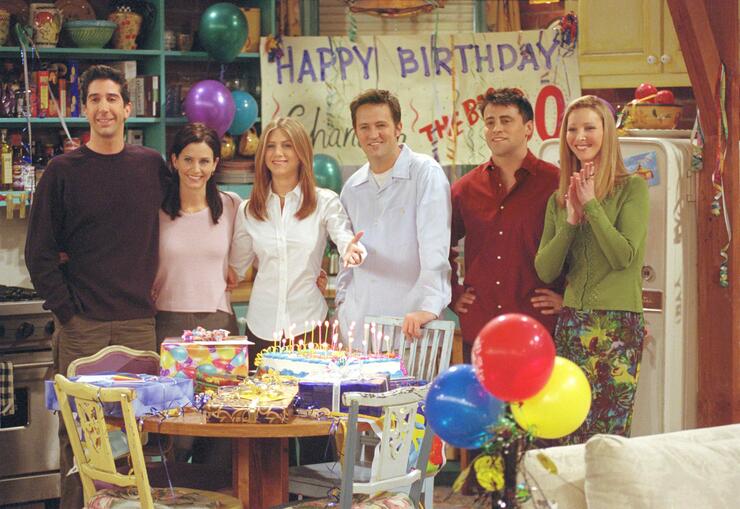 Courteney Cox is the queen of sharing hilarious, nostalgic posts about Friends on her Instagram account. From epic throwbacks to meme-ing herself to quoting the show's most famous lines, the actress isn't afraid to lean into Monica Geller's legacy. She did just that again when she posted a rare, never-before-scene photo of the entire original cast on a private jet. There's actually a pretty crazy story behind the photo, as well.
"The one where the six of us went to Vegas and no one knew we were F.R.I.E.N.D.S yet," Courteney captioned the shot. If you scroll through the comments, Courteney's fellow Friends star Lisa Kudrow wrote, "Look at that! Thanks again Jimmy Burrows. Love you Courteney."
Burrows (who Lisa shouted out in her commented) was director of the hit '90s sitcom. Back in 2016, he told the emotional story behind the photo on the private jet to Vanity Fair. Burrows brought the cast members to Vegas after the shot the pilot for Friends in order for everybody to bond and get to know each other better.
"I had me and six of them [on the trip]," Burrows said. "And I said — I don't know why I said this — I said, 'This is your last shot at anonymity. Once the show comes on the air, you guys will never be able to go anywhere without being hounded.' I knew the show had a chance to really take off."
"So I did that and then I said, 'Do you want to gamble?' and they said, 'Yes.' I said, 'Okay, go ahead.' And all six of them didn't have any money so they each wrote me checks for $200 and I cashed them. And that was it. They came back and premiered and they don't have a shot of anonymity anymore," he said.
Nowadays the Friends cast are, of course, some of the most recognizable faces in pop culture. Now our only question is...did their IRL Vegas trip inspire any of the antics from the show's Vegas trip?
Photo: Getty
Chat About Courteney Cox Shares Never-Before-Seen 'Friends' Photo & It's A Must See