Woodstock 50 Has New Investors Waiting, Tickets Going On Sale Soon
By Andrew Magnotta @AndrewMagnotta
May 16, 2019
Following an important court ruling in its favor, Woodstock 50's organizers announced that they are poised to move forward with the festival as scheduled.
Woodstock festival co-creator Michael Lang and the 50th anniversary festival's principal partner Gregory Peck told Q104.3 New York's Jim Kerr Rock and Roll Morning Show on Thursday that they had new investors ready sign on and make Woodstock 50 a reality.
The New York Supreme Court's ruling Wednesday confirmed that the festival's previous financier Dentsu Aegis Network had no right to unilaterally cancel the event. The court did not, however, rule whether Dentsu improperly withdrew $17.8 million from the festival's accounts in an effort to recoup its investment. That matter will be settled later.
But Peck wanted to make it clear who the winner was in court.
"Woodstock 50 won, Dentsu lost," he said. "The judge definitively ruled — and we're very grateful to Judge [Barry R.] Ostrager — he ruled that [Dentsu] did not have the right to cancel the festival, and that the festival is happening, which it is! Which we're thrilled about; it's moving forward."
Lang later added that tickets will be going on sale soon.
"We're going to try and at least announce the on-sale within a week or 10 days," Lang said. "Everybody's been waiting for this ruling. All the investors that we've been talking with who are ready to close our arrangements have been waiting for this as well. We just have to move everything very quickly."
He adds that the festival has an "amazing production partner coming in," but he couldn't make an announcement about it just yet.
Listen to the full interview on iHeartRadio here or via the podcast player below.
Much has been made about the status of the festival's permits, but Peck downplayed the questions. He noted that Woodstock 50 has been in the works for at least 18 months. While the organizers have to work quicker on a number of matters, permits are not a concern.
"The fact is we actually essentially have the permits; it's mainly an administrative matter," Peck explained. "We're changing our production company, so you have to actually just physically change the forms. But the city and the municipalities have offered us a conditional permit. We expect to have it soon and be in a position to go on sale."
With such a high-powered lineup, Woodstock 50 is sure to be a draw. Lang added his thanks to the performers for "being patient with us" as they near the finish line. Only one major act, The Black Keys, dropped off the bill. But that was due to a "scheduling conflict," and announced before Woodstock's conflict with Dentsu went public.
Lang reminds Kerr and Q104.3's Shelli Sonstein that making the first Woodstock happen, in 1969, also came down to the wire.
"We had been working at a site in Wallkill [New York] for three months and then they passed a law, kind of, preventing us from doing it, just about four weeks before the festival," Lang recalled.
For more information on Woodstock 50 when it becomes available, go here.
Photo: Getty Images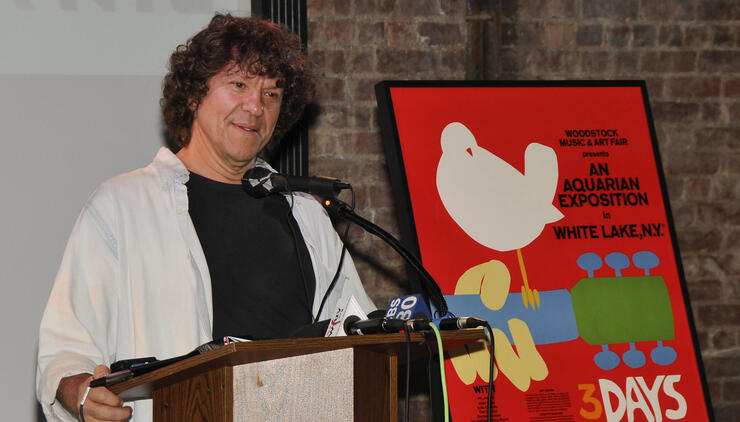 Chat About Woodstock 50 Has New Investors Waiting, Tickets Going On Sale Soon