Watch Elton John, Taron Egerton Deliver Surprise "Rocketman" Duet
By Andrew Magnotta @AndrewMagnotta
May 17, 2019
Elton John invited actor Taron Egerton to the stage with him at the Cannes gala party to perform another duet on one of John's classic songs, celebrating the upcoming theatrical release of Rocketman.
The multi-talented Egerton stars as John in the biopic, and does all the singing as John in the film. In March, Egerton joined John at his annual Oscars party to sing "Tiny Dancer."
You can watch John and Egerton sing "Rocketman" in the video above.
The Dexter Fletcher-directed fantasy musical, Rocketman, is due for a worldwide theatrical release May 31, though some fans are getting in early to see it.
Despite the surreal elements of the film, John has been bullish on it being an honest (if not entirely historically accurate) account of his life's story, as he's experienced it. The Rock and Roll Hall of Famer has praised Egerton's portrayal in the film, as well as the other cast and crew for bringing his dream to life.
"This has been a very emotional night for me," he told the audience during the afterparty. "Even if the movie doesn't make one penny at the box office — which will kill [Paramount CEO] Jim Gianopulos — it is the movie I wanted to make."
John added that he was was "very moved" the first time he saw Rocketman and that he "cried a lot" during his most recent screening.
John's longtime writing partner and lyricist, Bernie Taupin, agreed, saying calling the first viewing "very emotional."
"There were a couple of scenes in it where I was quietly sobbing, to be quite honest," Taupin said.
Egerton's performance was challenging in a myriad of ways, and the duo agree, the actor was a revelation.
"Not only did he have to perform my life; he had to sing my life," John said. "That's a double-whammy. When I look at him singing, and when I look at him acting, I'm not looking at Taron Egerton, I'm looking at me.
Taupin noted that most biopics come after their subjects have passed away. With a laugh, he added that he feels lucky that he and John "are still around to appreciate" the film.
Photo: Getty Images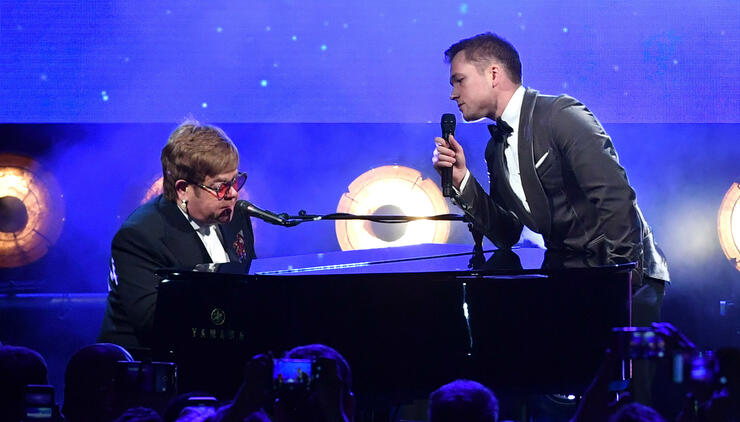 Chat About Watch Elton John, Taron Egerton Deliver Surprise "Rocketman" Duet