The National Celebrate New Album With Captivating iHeartRadio Release Party
By Katrina Nattress
May 18, 2019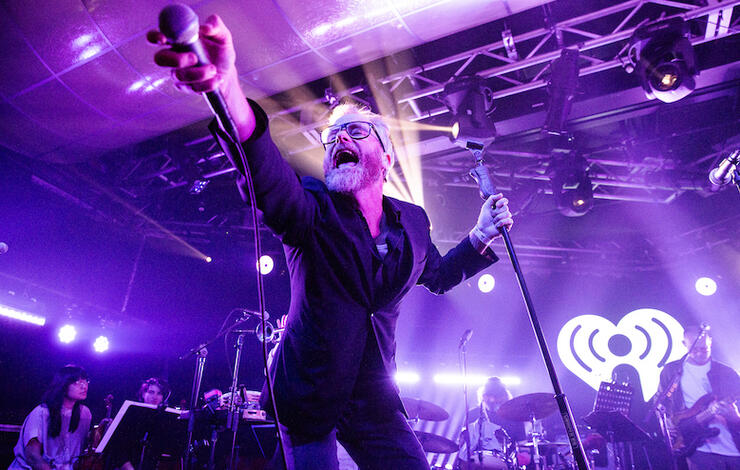 On Friday (May 17) The National dropped their eighth studio album I Am Easy to Find, and celebrated the project with an intimate album release party in New York City, hosted by iHeartRadio. The indie rockers treated fans to a captivating 11-song set that was mostly filled with selections from the new record, as well as a few fan favorites from their expansive discography.
They kicked things off with the album's lead single "You Had Your Soul With You," joined by vocalists Kate Stables of This Is the Kit and Pauline de Lassus Saint-Geniès, a.k.a. Mina Tindle. Throughout the evening, the women accompanied frontman Matt Berninger on new songs, while an orchestra and horn section filled out the cinematic sounds
Between songs, ALT 98.7 radio host Harms asked Berninger questions about the new project, and its accompanying short film. "[Mike Mills, director] was trying to make a portrait of a person without dramatic plot, because I don't think we're made up of plot," the singer explained about the movie's inception. "He said most of what he's writing about himself, but he also writes about his mother and his sister…he wanted it to be about a woman."
As such, a number of talented women contributed to the making of I Am Easy to Find, including Berninger's wife Carin Besser, who wrote "You Had Your Soul With You" and "Hey Rosey."
The National played "Bloodbuzz Ohio" off 2010's High Violet, "The System Only Dreams in Total Darkness" from 2007's Boxer and ended the set with "Fake Empire" off the same album; however, eight of the eleven songs were off I Am Easy to Find.
As always, Berninger's stage presence was mesmerizing as he passionately moved across the stage during each song, acting as if there was no one else in the room. The National bring their riveting show on an extensive tour beginning in June. Check out the full album release party set list below.
The National I Am Easy to Find Album Relase Show Set List
You Had Your Soul With You
Bloodbuzz Ohio
Lights Years
The System Only Dreams in Total Darkness
Oblivions
Rylan
Where Is Her Head
Hey Rosey
Quiet Light
The Pull Of You
Fake Empire
Photo: Katherine Tyler for iHeartRadio
Chat About The National Celebrate New Album With Captivating iHeartRadio Release Party