Jon Pardi Serves Up 'Heartache Medication' With New Single
By Lauryn Snapp
May 20, 2019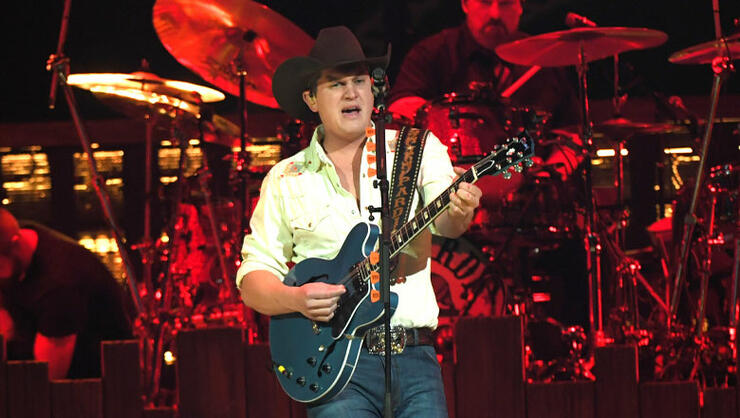 Alabama said it first, "You gotta have a fiddle in the band" and Jon Pardi is carrying on the tradition with his 2019 album, 'Heartache Medication' expected on Sept. 27.
Jon Pardi is celebrating his traditional roots in this album by keeping a stronghold on the fiddle and featuring it heavily on his first single on the new project.
Sharing the project's title, "Heartbreak Medication" is a drinking-to-forget anthem with a pedal steel infused, honky-tonk style. The twangy, Bakersfield-style guitar track will be here on June 3rd, just ahead of the 2019 CMT Awards.
In a recent interview with The Associated Press, Pardi shared "When I wrote that song, I knew the fiddle was going to count it off, and we're going to have a fiddle intro, the first fiddle intro ever on country radio since Alan Jackson," he said with a laugh.
"Heartache Medication" will also carry on as the name of his headlining tour which will kick off Oct. 1 and 2 at the Ryman Auditorium in Nashville, TN.
"There's a lot of songs and subjects that this album talks about, and it could be sad like a loss, or just kind of down, but the songs lift you up. They put you in a higher place," says Pardi.
In addition to his own music, Pardi recently collaborated on Thomas Rhett's newest single, "Beet Can't Fix." The upbeat track can be found on Rhett's upcoming album, 'Center Point Road' coming May 31st.
RELATED: Thomas Rhett and Jon Pardi Duet On New Single, 'Beer Can't Fix.'
Photo Credit: Getty Images.
Chat About Jon Pardi Serves Up 'Heartache Medication' With New Single