Speaker Nancy Pelosi Says President Donald Trump Engaged in a 'Cover-Up'
By R.J. Johnson - @rickerthewriter
May 22, 2019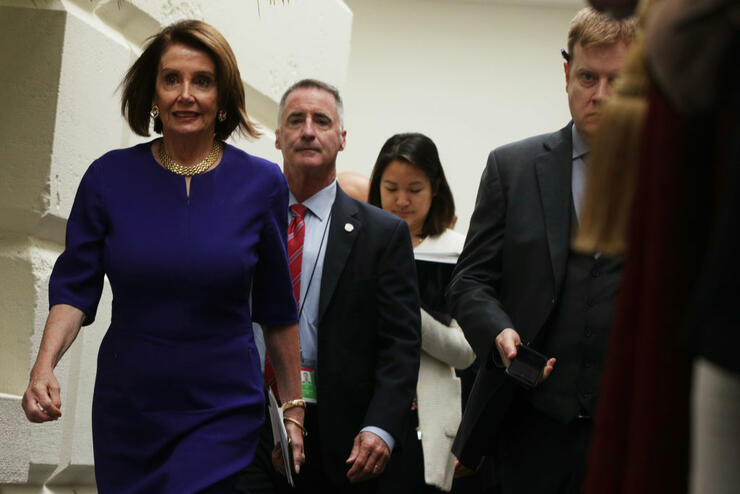 House Speaker Nancy Pelosi (D-CA) accused President Donald Trump of engaging in a "cover-up' on Wednesday as his administration continues to block House Democrats from obtaining testimony and documents for their oversight investigations.
"We do believe that it's important to follow the facts. We believe that no one is above the law, including the president of the United States. And we believe that the president of the United States is engaged in a cover-up," Pelosi said after a closed-door caucus meeting with House Democrats.
Pelosi met with members of her caucus on Wednesday to discuss the House's efforts to conduct oversight and investigations of the Trump administration. The comments by the Speaker of the House come as her fellow Democrats have been calling for an impeachment inquiry be opened against President Trump.
During an impromptu speech from the Rose Garden, President Trump addressed Pelosi's comments saying that he doesn't "do cover-ups."
"I came here to do a on infrastructure meeting with Democrats — not really thinking that they wanted to do infrastructure or anything else other than investigate. And I just saw that Nancy Pelosi, just before our meeting made a statement that we believe that 'the President of the United States is engaged in a cover-up.' It turns out I'm the most — I think most of you would agree to this — I'm the most transparent president probably in the history of this country."
Pelosi, Trump and Senator Chuck Schumer (D-NY) were scheduled to meet at the White House to discuss infrastructure investment, a meeting that only lasted five minutes according to CNN.
"I've said from the beginning — right from the beginning — you probably can't go down two tracks. You can go down the investigation track or you can go down the investment track," Trump said.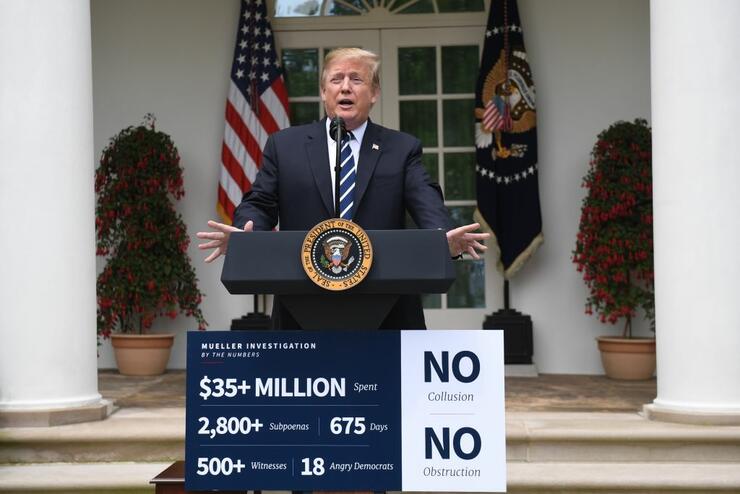 The calls for impeachment crossed the aisle over the weekend after Rep. Justin Amash (R-MI) tweeted that Trump's attempts to obstruct justice as outlined in special counsel Robert Mueller's report amounted to "impeachable conduct." Amash also accused Attorney General William Barr of using his position to mislead the public over the Mueller report.
"While impeachment should be undertaken only in extraordinary circumstances," Amash tweeted, "the risk we face in an environment of extreme partisanship is not that Congress will employ it as a remedy too often but rather that Congress will employ it so rarely that it cannot deter misconduct."
While Amash is the first Republican to call for Trump's impeachment, a number of Democrats have stepped forward, endorsing a move forward, including nearly a dozen Democrats who sit on the House Judiciary Committee.
"President Trump and his Administration have obstructed justice over and over again, leaving us no choice: we must open an impeachment inquiry into the President of the United States," Rep. Madeleine Dean, D-Pa., tweeted. "It is the right time for the committee to launch a formal impeachment inquiry – in parallel with ongoing oversight – to give the American people the truth."
The Trump administration has defied multiple Congressional subpoenas, leading Congress to hold Attorney General William Barr in contempt after he failed to provide an unredacted version of the Mueller report to congressional investigators.
Photo: Getty Images
Chat About Speaker Nancy Pelosi Says President Donald Trump Engaged in a 'Cover-Up'