J. Cole, Travis Scott, & Young Thug Release New Song 'The London'
By Lauren Crawford
May 24, 2019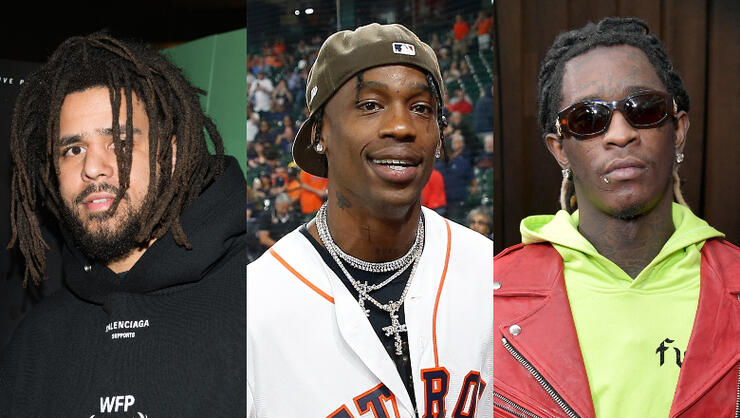 Young Thug's collab with J. Cole and Travis Scott is here.
The "On The Run" rapper surprised fans by dropping the recently teased track on Thursday (May 23). Earlier this month, at Rolling Loud Music Festival, attendees spotted green posters that hinted at the coming of a "New Summer Anthem," featuring the highly respected trio. The posters also appeared to feature lyrics from the track as it had the words, "Pimp talk church talk I can make a brick walk," on it.
Thug additionally teased the project earlier this week with a creative live stream called "Meet Me at the London."
Travis opens up the track by rapping the moody chorus. "Me-meet me at The London/ If you find time, we can run one/ Talk about some things, we can't undo/ You just send the pin, I can find you 6'1", on the money, 9'2"/ You just say the word and I'll run through/ Two texts, no reply, that's when I knew I knew, I knew, yeah, I knew," he spits.
It then transitions to Cole's stylistic verse where he delivers a number of punchlines, and few cocky (but true) bars, including this one: "A verse from me is like eleven birds I did the math/ it's like 2000 dollars every word."
After Cole, Thug starts his verse with the teased "Pimp talk, church talk I can make a brick walk," line. The track ends with a La Flame outro.
Photo: Getty Images
Chat About J. Cole, Travis Scott, & Young Thug Release New Song 'The London'