Tomb Sentinel Honors Unknown Soldier During Torrential Rain
By R.J. Johnson - @rickerthewriter
May 27, 2019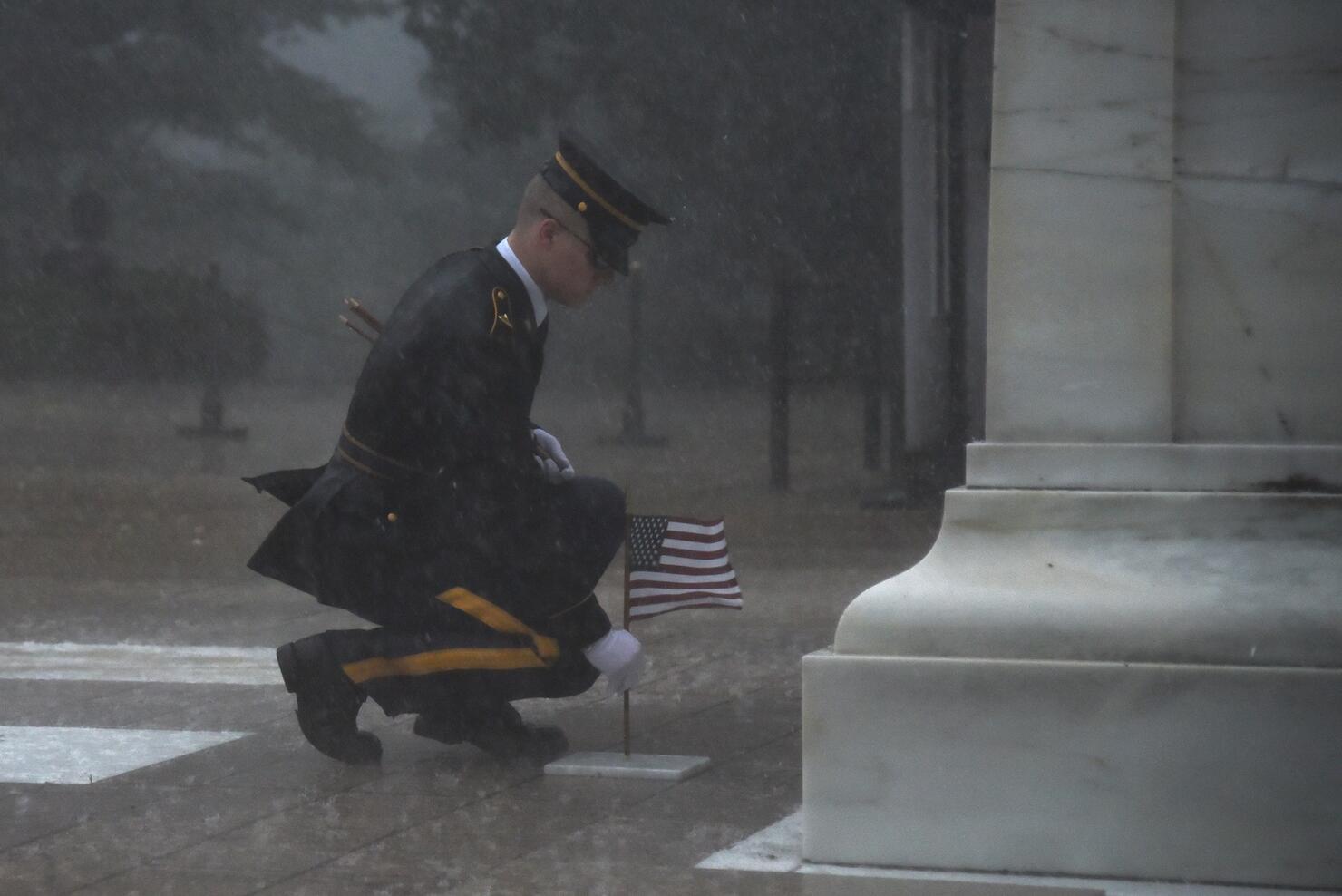 A severe downpour that inundated the Washington D.C. area before the start of Memorial Day Weekend did not stop the 3rd U.S. Infantry Regiment from placing flags at the Tomb of the Unknown Soldier at Arlington National Cemetery.
The regiment in charge of carrying out the annual tradition of planting flags on every grave at Arlington National Cemetery before the holiday weekend is known as The Old Guard. The soldiers plant up to 245,000 flags every year to ensure that every fallen service personnel has a decoration on their grave to recognize their service to our country. The tradition is known as "Flags In" and has occurred over the last fifty years.
According to a Facebook post from the 3rd U.S. Infantry Regiment last week, some soldiers were so determined to finish the job of planting flags on all the graves, they had to be ordered to stand down.
"The streets flooded. Trees as old as the cemetery itself broke at the trunk and came crashing down. But America's Regiment endured. They found low ground and held fast through the wind and the rain. Some had to be to ordered to stand down from planting flags, still determined to continue to honor the fallen.
"With only a few watching from cover, a Tomb Sentinel approached the Unknowns with (US) flags in hand," the 3rd US Infantry Regiment wrote in their May 24 Facebook post. "As thunder shook the ground and rains washed down without abandon, the Tomb Sentinel pierced through the elements with breath-taking precision."
Despite the weather conditions, the Tomb Sentinel (as soldiers who guard the Tomb of the Unknown Soldiers are known), remained on guard, ignoring the pouring rain.
"For the select few who saw this moment, it was jaw-dropping. Humans have their limits, but The Old Guard has yet to meet theirs," the regiment wrote in its Facebook post. 
The Tomb of the Unknown Soldier at Arlington National Cemetery stands on top of a hill overlooking Washington D.C. The Tomb was first approved by Congress in 1921 to bury an unidentified soldier from World War I in the plaza of the Memorial Amphitheater. President Warren G. Harding presided over the first interment on November 11, 1921, and President Dwight D. Eisenhower oversaw the interment of the unknowns of World War II and the Korean War in 1956.
Photo: 3rd U.S. Infantry Regiment