John Legend Talks About His Big Decision On Series Premiere Of 'Songland'
By Hayden Brooks
May 29, 2019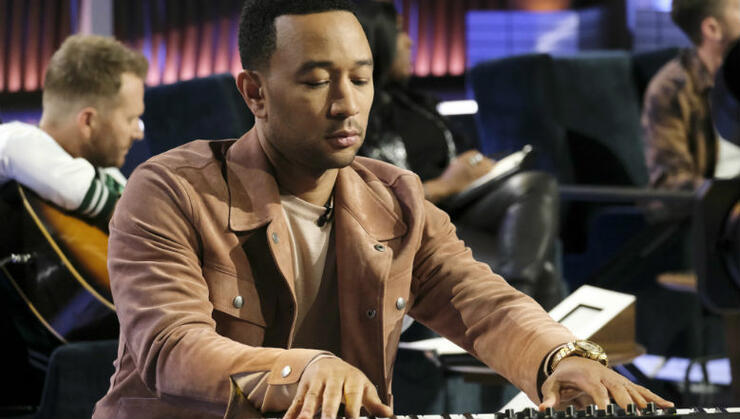 NBC's Songland kicked off its series premiere on Tuesday night (May 28) with John Legend joining the panel of songwriting experts like Ryan Tedder, Ester Dean and Shane McAnally to help hopeful contestants hone their original track. For the competition's first kickoff round, Tebby Burrows walked away as the champ with plenty of advice surrounding her song "We Need Love," as well as Legend's big decision to record the cut. To pair alongside the music-themed competition, a companion podcast has launched exclusively on iHeartRadio to give listeners behind-the-scenes insight on the episode and track at-hand.
"I've never seen a show like it before. It really focuses on the process of songwriting and it's something that's very near and dear to my heart," Legend told host Dave Stewart at the top of the episode. "I've been writing songs since I was a kid and I think of myself as a songwriter just as much as I am a singer."
Burrows went on to explain that she grew up in a musical household, with church choir, Taylor Swift and *NSYNC serving as some of the big components to her childhood musicality. Despite steady work on her poetry and alongside production duo Cool & Dre, no moment could prepare Burrows for standing in front the judges to present her song. "I finished the song and then the judges give their feedback, which is always nerve-wracking," she admitted. "I was just ready to pay attention and they had really great constructive feedback, and John immediately sort of knew the direction that he would take."
"I picked 'We Need Love' because I love the message," Legend admitted. "I thought it had a great chorus that needed a lot of work around it. I picked it because the message stayed intact as a message we all can agree with, that you need more love in the world. But I think the way they lyrically built the case for why we need more love and musically the mood they put with it just was night and day from the original version."
For Legend, it was also that very transition that sold the song to him. "It made it a song that I was really excited to cut. It was so much more effective when it was more in full, when it had a hint of sadness, when it had a hint of tension and pain rather than kind of just the happy or go lucky bouncy vibe," he described.
To hear more about Legend's decision to cut "We Need Love," take a listen to the accompanying episode of the Songland Podcast and stay tuned for new episodes of Songland every Tuesday night at 10 PM ET on NBC!