Katy Perry Returns with New Song "Never Really Over"
By Taylor Fields
May 31, 2019
Katy Perry is back and kicking off her next era with a brand new single called "Never Really Over."
Featuring production from Zedd, who Perry previously teamed up with on their collaboration "365," the pop star's new song is a dance-worthy pop track where in the chorus, Perry sings, "Two years, and just like that/ My head still takes me back/ Thought it was done, but I/ Guess it's never really over/ Oh, we were such a mess/ But wasn't it the best?/ Thought it was done, but I/ Guess it's never really over."
In a statement (via Billboard), Katy explains of the track, "All of our relationships — from first love, through failed love, to great love — all become a part of you, so that none are ever really over, and once you accept both the dark and the light, you may find that the darkness brought you to the light."
"Never Really Over" also comes with an accompanying music video, which Katy has been teasing over the last week. The visual is full of bright colors and set in a lush meadow, as well as around a campfire, and is also full of unique, playful choreography. She explained to during an LA fan event this week (as reported by Entertainment Tonight), "This choreography was definitely more unique than other choreography [I've done]. For me, I'm not really a pas de bourrée-type girl, I'm more of a pass the burrata girl. I have to learn kinda like on the fly, it's harder for me, it doesn't come naturally." She added, "I didn't grow up in the dance world or grow up having dance lessons, so everything looks a little awkward and sometimes I get very publicly shamed for my awkwardness. I'm like, 'That's who I am!' But this was more ethereal, it's very interpretative and it tells a story if you look at some of the movements. It's incredible."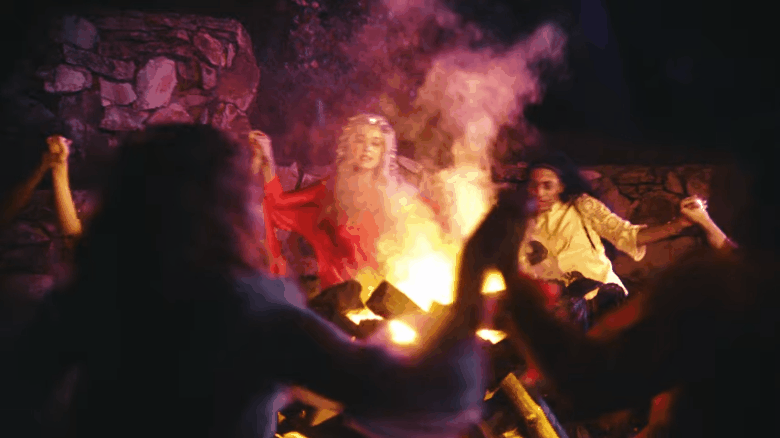 During the fan event just days before "Never Really Over" dropped, Katy also opened up about her new music, and explained after showing the video, "This time, or this video, or things that I'm touching on is kind of a time like age of Aquarius, new age, esoteric, California, healing, hippie, medicinal, plant-based ... all those keywords. There are many things like that, and honestly, these are the words that I've come to live by and incorporate these types of things and way of life in the past few years. So, I just wanted to put that in my music and my video."
Perry also spoke about her new yin and yang logo, and revealed, "The yin and yang is about acceptance in light and dark. So, you can't ever get rid of the dark. But you can accept that maybe it was a lesson for you to get to the light."
Watch Katy Perry's "Never Really Over" music video above.