Foul Ball Hits Child in Stands During Astros, Cubs Game
By R.J. Johnson - @rickerthewriter
May 30, 2019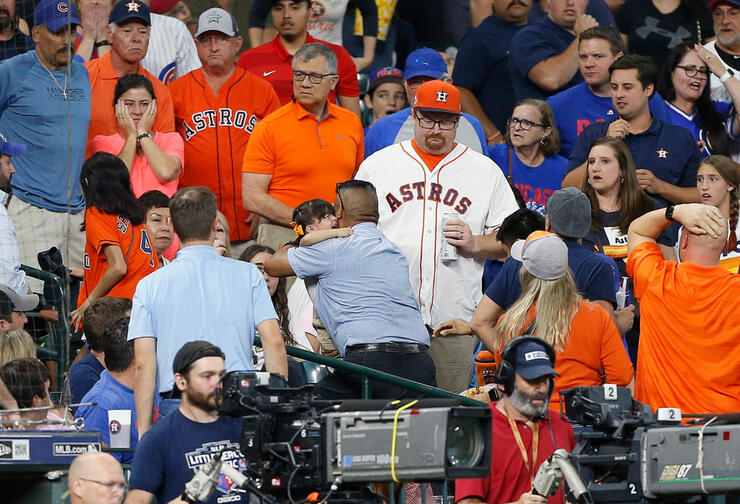 A heart-stopping moment at a baseball game between the Houston Astros and Chicago Cubs at Minute Maid Park left several players shaken and people calling for more netting after a foul ball struck a child in the fourth inning on Wednesday.
Chicago Cubs outfielder Albert Almora Jr. was up to bat, facing a 2-2 count when he hit a foul ball down the third base line and struck a girl. A man with the girl was seen racing up the stairs while she burst into tears.
Almora, who is the father of two children himself, reacted immediately when he realized what happened. The center fielder could be seen putting his hands on top of his head and then sinking to his knees. Almora's teammate, Jason Heyward and the Cubs manager, Joe Maddon, came over to reassure Almora.
"Right now I'm just praying and I'm speechless," Almora told The Today Show. "I'm at loss of words."
The accident at Minute Maid Park Wednesday renewed calls for more safety precautions at ballparks around the country. Every team in the major league was required to have extended the protective netting around home plate by the beginning of the 2018 season, including Minute Maid Park, but the netting does not cover the entire length of the bowl.
Play was briefly stopped for several minutes while Almora took a few moments to recompose himself. Almora, who appeared to be crying, returned to home plate to continue his at-bat and was struck out on the very next pitch.
Before returned to center field, Almora went over to the area of the stands where the child had been sitting in hopes of getting an update on the child's condition. A security guard could be seen consoling him as the center fielder cried, covering his face using his glove.
The fan who recovered the foul ball told the Houston Chronicle that he didn't even realize what had happened at first.
"All we heard was screaming," David LeVasseur, 26 told the paper. "We saw this dad pick up a child and run up the stairs. He took off running."
"I (came) upstairs and see the first-aid guys up there and the dad is holding the girl. She (was) alert, she's conscious, she's fine. I was just going to give somebody in the family the ball. They kind of, naturally, shook it off. I asked the first-aid guy if she was OK and he said he didn't know."
The child was taken to a hospital according to a press release from the Astros, but there was no word on her condition.
"The young fan that was struck by a foul ball during tonight's game was taken to the hospital," the statement reads. "We are not able to disclose any further details at this time."
"The Astros send our thoughts and prayers to the entire family," the statement said.
Photo: Getty Images
Chat About Foul Ball Hits Child in Stands During Astros, Cubs Game