Meek Mill Will Accept Apology From Cosmopolitan Hotel After Racism Claims
By Peyton Blakemore
May 31, 2019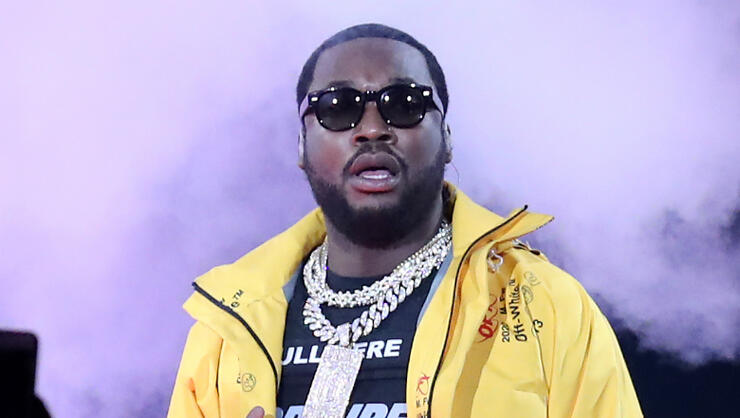 Meek Mill is no longer planning to sue the Cosmopolitan hotel.
According to TMZ, the Las Vegas resort is planning to issue a public apology to the 32-year-old rapper and activist after threatening to arrest him if he didn't leave the hotel grounds over Memorial Day weekend. Multiple sources told the entertainment news site, the Cosmo will issue a "significant public apology" and Meek will accept it.
The "Going Bad" rapper's lawyer Joe Tacopina had prepared a lawsuit he intended to file against the hotel, claiming racial discrimination and defamation. Joe told TMZ earlier this week he was seeking "heavy monetary damages" for "lying and humiliating Meek." He even promised to "take [the hotel] down because of what they did."
As previously reported, on Sunday (May 26) Meek shared a video of two hotel staffers asking him to leave the property due to a "prior incident" that they refused to elaborate on. "Cosmopolitan hotel/casino going to extreme racist levels to keep too many black entertainers and black people," Meek captioned the clip. "they said they gone lock me up.. I'm like for what I've been once to a party with jayz ..... Some of these casinos have a bunch of [tactics] to keep the level of blacks down .... but love to take our money!!!! This happens to a lot of black entertainers not just me either!! I felt crazy being put out by these white men for no reason!"
While the Cosmopolitan told TMZ they did not discriminate against Meek, citing the fact that the Marquee Nightclub at the hotel where Meek was heading was at capacity, that does not match with the story the two staffers told Meek. As seen in the video, the Cosmopolitan staff members said they couldn't allow Meek on the property because of a prior incident. Even when Meek asked if he could go into the hotel to get something to eat they said no, which seems to prove that the nightclub's capacity had nothing to do with their reasoning for kicking him off the property.
Meek's attorney told TMZ he believed the incident went down because of racial discrimination, as he claimed there was a list of black rappers who are "persona non grata" at a group of Vegas hotels. While the Cosmopolitan denied (and still denies) said list, saying they don't exclude anyone because of race, Joe said he'd already identified two other rappers —Yo Gotti and BlocBoy JB — who claimed other Vegas hotels have denied them entry because they're black rappers. That list only grew as TMZ reported that Snoop Dogg's team came forward claiming mistreatment by the Cosmo, as well as O.J. Simpson's lawyer, who said the disgraced athlete was mistreated while at the hotel in 2017. (He was permanently banned from the hotel after staff claimed he was intoxicated and unruly)
Despite the multiple claims of mistreatment, Meek and the hotel are reportedly putting this behind them.
Photo: Getty Images
Chat About Meek Mill Will Accept Apology From Cosmopolitan Hotel After Racism Claims