Andy Ruiz Jr. Defeats Anthony Joshua in Huge Upset For Heavyweight Title
By R.J. Johnson - @rickerthewriter
June 2, 2019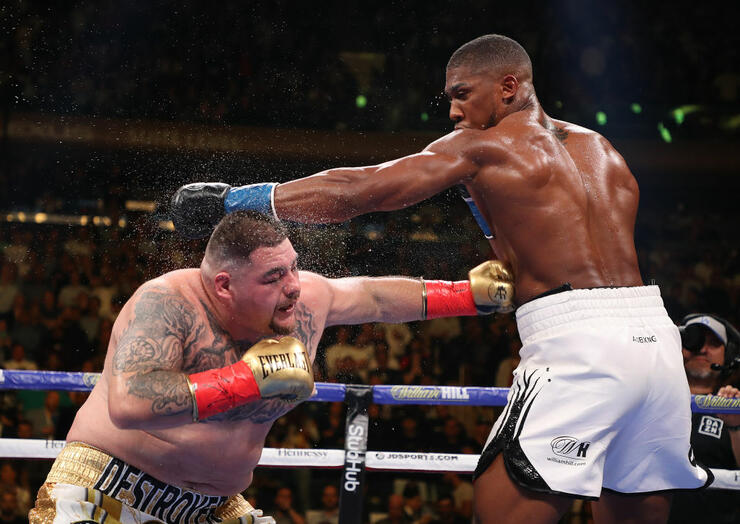 The boxing world was stunned Saturday night after Andy Ruiz Jr. (33-1, 21 KOs) upset British boxer Anthony Joshua (22-1, 22 KOs) with a seventh-round technical knockout, making him the first fighter of Mexican descent to claim the heavyweight title.
The 29-year-old Ruiz was a massive underdog going into his fight at Madison Square Garden Saturday, but earned his TKO victory after downing Joshua four times - twice in the third round and twice more in the last round. Referee Mike Griffin ended the fight at 1:27 into the seventh round.
"I just want to thank God for giving me this victory. Without him this wouldn't have been possible," Ruiz said following that match. "I just feel so good, man. This is what I've been dreaming about, this is what I've been working hard for. I can't believe I just made my dreams come true."
The 270-pound Ruiz was born in Imperial Valley, California, and becomes the first boxer of Mexican descent to win a heavyweight title. In this case, he is the consolidated champion of all four professional boxing organizations.
Ruiz unexpectedly got his shot at the title after Joshua's original opponent, Jarrell Miller, failed several drug tests. The boxer had only six weeks to prepare for his match against the champ, but has cemented himself in boxing's history after winning the WBA/IBF/WBO/IBO championships.
Boxing experts are calling it the biggest upset since Buster Douglas defeated Mike Tyson for the heavyweight title in 1990.
Photo: Getty Images
Chat About Andy Ruiz Jr. Defeats Anthony Joshua in Huge Upset For Heavyweight Title