Demi Lovato Was The ULTIMATE Fangirl At Christina Aguilera's Las Vegas Show
By Peyton Blakemore
June 2, 2019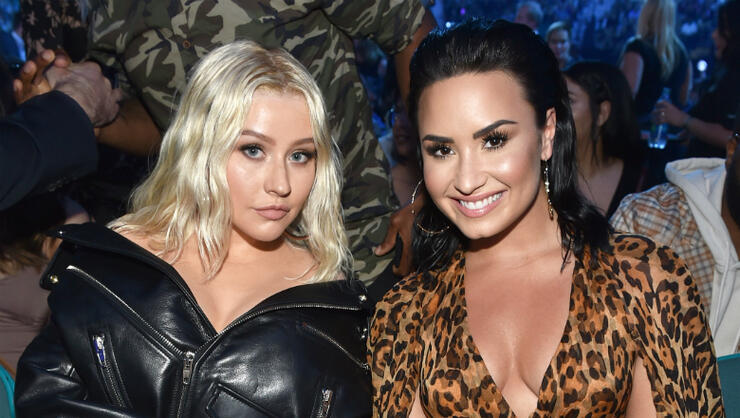 Demi Lovato loves herself some Christina Aguilera.
On Friday (May 31), the longtime X-Tina fan documented her night out at the debut show of Christina's Xperience residency show at the Zappos Theater in Las Vegas, and let's just say, Demi was not afraid to let the world know just how much of a Christina fan she really is.
After sharing what seemed like was a never-ending (in a good way) Instagram Story of Christina's show (I mean, she literally shared snaps from almost every if not every song Christina sang) and her oh-so-cute fangirl reaction to everything Miss Aguilera did onstage, Demi paid tribute to her idol and friend in a heartwarming Instagram post.
"The f**king queen herself," she captioned a photo of the two of them together after the show. "A PERFECT, perfect show.. couldn't believe it was opening night because it was so smooth, flawless and sounded incredible. I was entertained the entire time and was so bummed when it was over until I was reunited with this beauty."
Demi continued, "I'm so so happy I got to hug you @xtina, haven't seen you in concert since I was 14 and I can't believe how much life has changed since then. Honored to call you a friend 💗 keep it up queen. Oh and EVERYONE should go see #TheXperience at @phvegas!!!"
The 26-year-old singer even shed a few tears while watching her queen perform her long list of hits. XTina's "Fighter" appeared to get the biggest reaction from Demi as she sang her little heart out to the uplifting track.
Check out a few of Demi's best fangirling moments below:
Chat About Demi Lovato Was The ULTIMATE Fangirl At Christina Aguilera's Las Vegas Show