Maren Morris Surprises Fans With Niall Horan At London Show: Watch
By Katrina Nattress
June 2, 2019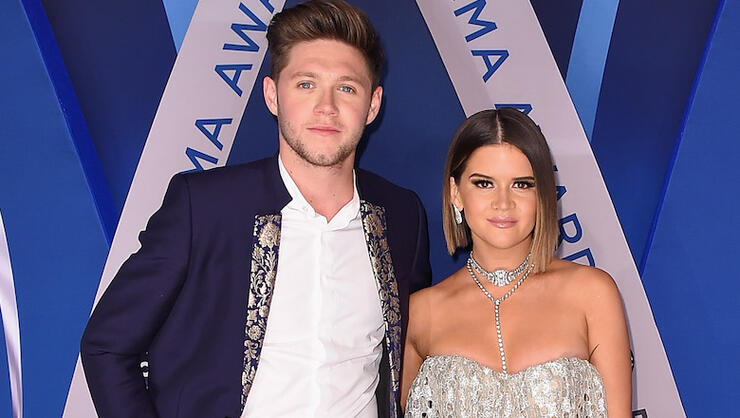 During the London stop of her Girl: The World Tour on Friday (May 31), Maren Morris gave her fans at Royal Albert Hall the ultimate surprise when she brought out Niall Horan.
"I've got a little someone special, so I want you to make them feel at home," she said before introducing the former One Direction star. After embracing in a friendly hug, the two performed "Seeing Blind," their duet that appears on Horan's 2017 solo album Flicker.
Horan gave Morris a big thank you on Instagram alongside a photo of the pair onstage. "Great to catch up with my buddie @marenmorris and jump on stage with her at @royalalberthalllast night. What an amazing show!" he wrote. The country star also shared a heartfelt post about the show, and her UK leg of the tour. Check out their posts and watch footage of the performance below.
Morris' tour is long from over. Throughout the rest of the year, she'll traverse North and South America, Australia, and New Zealand. Check out her remaining tour dates below.
Marren Morris Girl: The World Tour Dates
June 9 — Nashville, Tenn. @ CMA Fest
June 15 — Manchester, Tenn. @ Bonnaroo Music & Arts Festival
June 21 — Chicago, Ill. @ LakeShake Festival
July 19 — Brooklyn, Mich. @ Faster Horses
July 20 — Eau Claire, Wisc. @ Country Jam USA
Aug. 2 — Merritt, B.C. @ Merritt Rockin' River Festival
Aug. 3 — Duncan, B.C. @ Sunfest Country
Aug. 4 — George, Wash. @ Watershed Festival
Aug. 8 — Oro Modonte, Ont. @ Boots and Hearts Music Festival
Aug. 16 — Auckland, N.Z. @ The Logan Campbell Centre
Aug. 17 — Christchurch, N.Z. @ Town Hall
Aug. 19 — Brisbane, Australia @ Brisbane City Hall
Aug. 21 — Melbourne, Australia @ Forum Theatre
Aug. 22 — Sydney, Australia @ Enmore Theatre
Aug. 23 — Canberra, Australia @ UC Refectory
Aug. 30 — Grand Island, Neb. @ Nebraska State Fair
Aug. 31 — Buena Vista, Colo. @ Seven Peaks Music Festival
Sept. 5 — Wallingford, Ct @ Oakdale Theatre
Sept. 7 — Philadelphia, Pa. @ The Met Philadelphia
Sept. 12 — Mesa, Ariz. @ Mesa Amphitheatre
Sept. 13 — Del Mar, Calif. @ KAABOO Del Mar
Sept. 14 — Los Angeles, Calif. @ Greek Theatre
Sept. 20 — San Luis, Obispo, Calif. @ Avila Beach Golf Resort
Sept. 26 — Des Moines, Iowa @ Des Moines Water Works Park
Oct. 18 — Nashville, Tenn. @ Ascend Amphitheater
Nov. 15 — Milwaukee, Wisc. @ The Eagles, Ballroom
Nov. 16 — Minneapolis, Minn. @ The Armory
Photo: Getty Images
Chat About Maren Morris Surprises Fans With Niall Horan At London Show: Watch