It's Official: Madonna Announces Headlining Set For NYC's Pride Island 2019
By James Dinh
June 3, 2019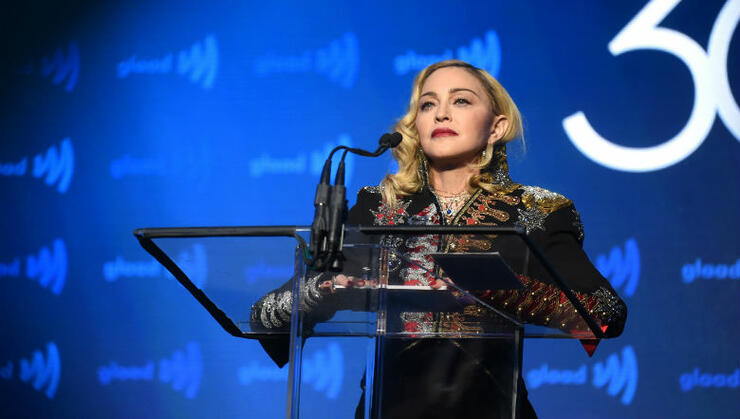 Madonna will close out Pride Island 2019 during WorldPride in New York City.
As many have speculated, the Queen of Pop has been selected to provide the star power during LGBTQ+ festivities on Sunday night (June 30) after a string of other performers like Grace Jones and Teyana Taylor serve up entertainment during the Saturday portion of Pride Island. Madge broke the big news via a video announcement during TODAY and is "expected to perform a few songs," as per an official press release. "I hear you! I'll be on Pride Island, where I was born," Madame X says in the brief clip, which sees her wrapped up a rainbow towel. Even without announcing a headliner, tickets for Sunday's Pride Island have been sold out for months, but the rumors have been circulating for some time now that the titan has been booked as the entertainer, especially since her new album, Madame X, drops on June 14.
"The community called loud and clear for an appearance by Madonna at Pride Island for WorldPride and the 50th anniversary of the Stonewall Uprising. I'm thrilled to report that Madonna and WorldPride NYC delivered on that call," Chris Frederick, NYC Pride's Executive Director, said in a statement. "This is going to be a night that our Pride Island guests will remember for the rest of their lives." NYC Pride Island will take place Saturday (June 29) and Sunday (June 30) at Pier 97 in New York.
World Pride 2019 is on its way and iHeartPride is celebrating the monumental June celebration with all kinds of coverage. iHeartRadio, Z100 New York and 103.5 KTU are Presenting Media Sponsors for NYC Pride and we're taking the milestone to heart with LGBTQ-focused coverage on everything from entertainment, politics and details on the summer festivities. After all, it does coincide with the 50th anniversary of the Stonewall uprising. Stay tuned for more on World Pride 2019 and keep an eye out for our float in the Big Apple's all accumulating parade on June 30!
Chat About It's Official: Madonna Announces Headlining Set For NYC's Pride Island 2019