Imagine Dragons Fire Up UEFA Champions League Crowd With Explosive Medley
By Katrina Nattress
June 4, 2019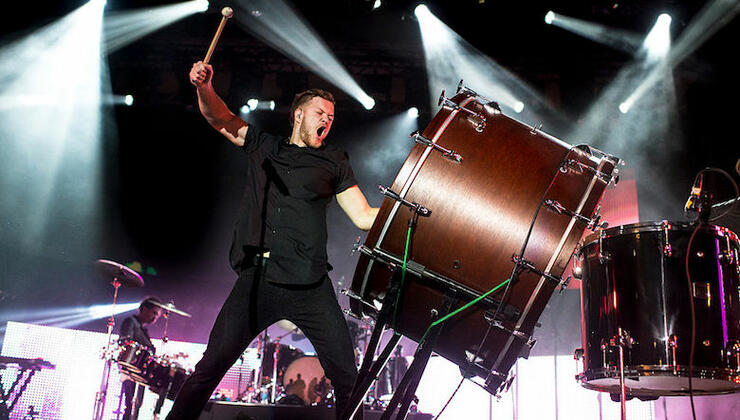 Before Liverpool and Tottenham squared off for the Champions League trophy at Madrid, Spain's Metropolitano Stadium on Saturday (June 1), Imagine Dragons fired up the crowd with a lively six-minute-long medley of their songs "Believer," "Thunder," "Radioactive," and "On Top Of The World." The band performed on a circular stage, while pyrotechnics exploded from the ground and hundreds of percussionist beat their drums in unison with the band.
Before the match, the Las Vegas-bred band spoke to NME about the opportunity to play such a large stadium, saying it's a "once in a lifetime opportunity", with frontman Dan Reynolds calling it "the biggest stage we've ever been on."
"We're lucky to be in a position where we can try and fill out the stadium with pyrotechnics and fireworks, and lots of drummers," he said. "We're trying to bring the energy that the game deserves."
The performance may have been the highlight for Tottenham fans — Liverpool ended up winning the championship with a final score of 2-0.
Watch Imagine Dragons' electrifying performance below.
Though the band may have been chosen to warm up the crowd, they're not the biggest soccer fans. "We're not diehard fanatics," Reynolds admitted. "But I played football for about 10 years. I wasn't very good at it."
Photo: Getty Images
Chat About Imagine Dragons Fire Up UEFA Champions League Crowd With Explosive Medley