Joe and Nick Jonas Thought Kevin Was Holding The Jonas Brothers Back
By Paris Close
June 4, 2019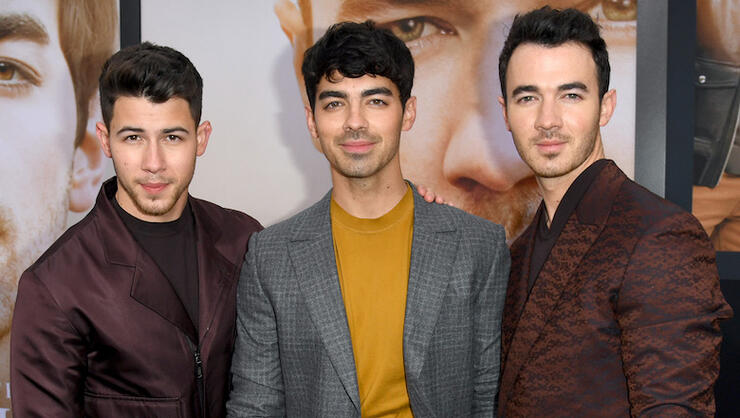 The Jonas Brothers get real about the aftermath of the group's fallout in their new documentary.
Last night's premiere of the band's new doc-film, Chasing Happiness, which debuted Tuesday (June 4) on Amazon Prime, saw brothers Joe, Kevin, and Nick Jonas make some painful revelations about the lesser-known inner conflicts within the group. One such recollection from Nick and Joe brought back hurtful memories of their eldest member, Kevin, whom the two became resentful toward for filming their private lives on his E! reality show, Married to Jonas, as the pair were trying to launch solo careers.
"Our whole life was a closed-door meeting, and Kevin invited cameras into that meeting," Joe explained. "We felt like he was going to air out a lot of our s**t that we didn't want people to know about."
Though another difficult-to-watch moment paints an even more depressing perspective from Kevin, who recalled how, after disbanding in 2013, only Nick and Joe were invited to perform JoBros gigs, but not him. The 31-year-old admits seeing them play without him was the "hardest moment of [his] entire life," and that's when Joe made a heartbreaking confession.
"I think it was because we thought you were holding us back. That's the truth," Joe said. "I think there was moments that Nick and I wanted to do our own thing and we felt like your focus was not in it anymore and it wasn't a priority for you. Starting a family was, and your guitar playing kind of fell in the backseat," he added, later apologizing to his older brother for the "f***ed up" situation.
As previously reported, the Jonas Brothers will go more in-depth about their breakup in their new memoir, Blood, this November.
Chat About Joe and Nick Jonas Thought Kevin Was Holding The Jonas Brothers Back