Lamb Of God Unsure Whether Drummer Chris Adler Will Return
By Andrew Magnotta @AndrewMagnotta
June 4, 2019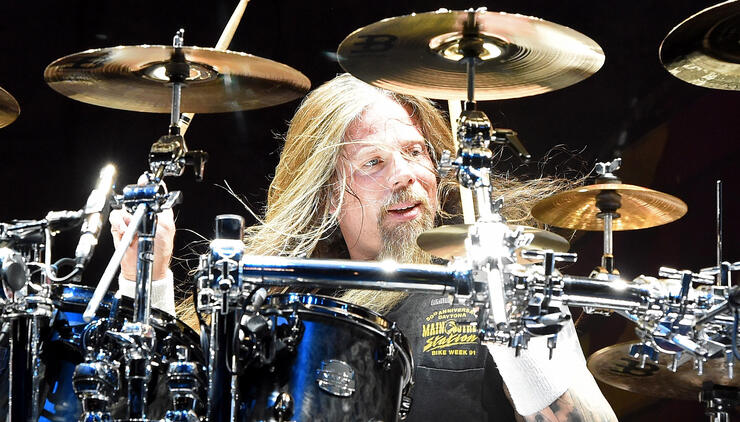 Lamb of God is one of few modern heavy metal bands to have gone almost 20 years without a lineup change, but that streak might be coming to an end.
Drummer Chris Adler has not toured with Lamb of God since he left a tour last summer due to "unforeseen circumstances" and was replaced by Prong and Winds of Plague drummer Art Cruz.
A few months later, Adler clarified that he was physically unable to continue playing his band's punishing live set due to lingering effects of injuries from a motorcycle crash in 2017, which included a "shattered collarbone" and "chipped bones" in his hip.
LoG front man Randy Blythe was recently asked by Seton Hall's Pirate Radio WSOU whether there was a timetable or general target for Adler's return. Blythe's answer was not encouraging.
"It's hard to say what's gonna happen with Chris Adler," Blythe said. "I have no comment on him."
Adler is one of modern metal's premiere drummers, having influenced a generation of players with his power and precision at the kit.
An end to his tenure with Lamb of God would not only be sad for fans of the band, it would also a blow to a genre struggling to find in-their-prime acts with the ability to anchor major tours. Cruz himself is a brilliant drummer, but replacing a co-founder isn't easy for any band, especially when it's someone of Adler's profile.
The fact that Adler was able to rehearse and perform with the band for some period of time last summer after his injury is encouraging, but it's hard to hear Blythe's "no comment" without thinking it implies some distance between Adler and the band.
On the other hand, distance is to be expected since Adler has been out of the picture for almost a year at this point.
Elsewhere in the interview, Blythe downplayed rumors of a new Lamb of God album coming out later this year.
"If the record doesn't exist, I'm not gonna talk about it," Blythe said.
It would sure be difficult to make a Lamb of God album without a drummer. Recording with Cruz could be a risky move for the band, as it would all but confirm a split from Adler. It may be that the band is putting off another recording to give Adler an abundance of time to get back into playing shape.
Adler has indicated via his social media that he is still playing drums, even as he goes through physical and occupational therapy. In early May, he shared a "rehearsal" clip ... but the music playing through his studio monitors did not sound much like Lamb of God.
Get all Lamb of God's tour dates here.
Photo: Getty Images
Chat About Lamb Of God Unsure Whether Drummer Chris Adler Will Return