CMT Music Awards Pouring It On Strong
By Lauryn Snapp
June 6, 2019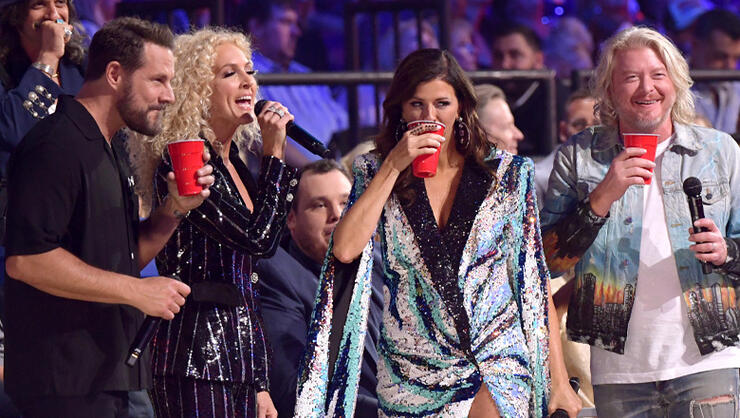 Nashville's biggest party was pouring it on strong in 2019 with the reoccurring award show theme of alcohol. And, frankly it was awesome! Drinks were flowing and sequins showing during the CMT Music Awards on Wednesday, July 5th.
The live broadcast from Bridgestone Arena took several opportunities to throw a few back in celebration.
Here are Cody Alan's top 10 favorite "shots" of the night.
1.Little Big Town opened the show with a sequin inspired toast to a star seen on the TV show, 'Game Of Thrones.' How could anyone forget the Starbucks cup? Everyone needs a little shot of caffeine. Are we right?
2.Little Big Town came in strong with round two of their hosting duties and played beer pong with Midland. Props to Jess Carson's aim when landing his beer pong ball on Phillip Sweet's forehead.
3.Luke Bryan's standout singalong on "Knocking Boots." Lyrics, "Yeah, birds need bees and ice needs whiskey."
4.Toby Keith and Cole Swindell get rowdy with the crowd by playing "Whiskey For My Men, Beer For My Horses."
5.Jimmie Allen took another kind of shot by bringing his mom as his date to the CMT Award show.
6.Runaway June chanted their lyrics with the crowd and we can't get it out of our heads! Still singing it, "I Can Buy My Own Drinks."
7.Morgan Wallen sang "Whiskey Glasses"
8.Mitchell Tenpenny plays, "Drunk Me" and it was pretty dope!
9.Little Big Town continues to play beer pong throughout the entire show.
10.Luke Combs slays "Beer Never Broke My Heart" to end the show and undoubtedly ripped us apart because we couldn't believe it was over!
Photo Credit: Getty Images.