Jennifer Aniston Is Down For A 'Friends' Reunion, Says Her Co-Stars Are Too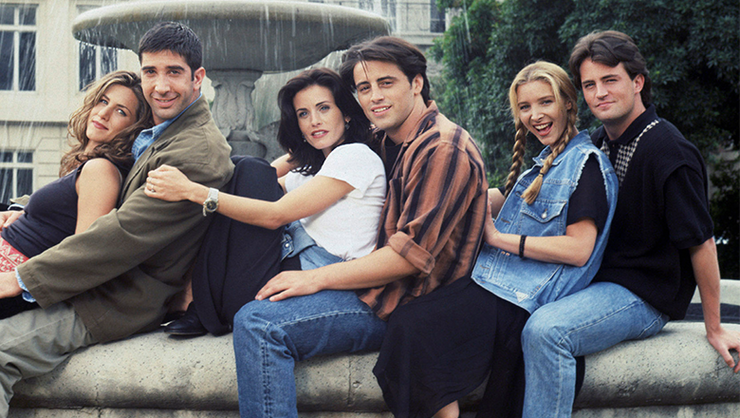 It feels like rumors a potential Friends reunion pop up every few months, though nothing ever gets confirmed. Well, Jennifer Aniston just added some fuel to the fire during a recent appearance on The Ellen Degeneres Show. While reminiscing about the beloved '90s sitcom, Ellen told Jen she should do the reunion. Surprisingly, Jen was *so* down.
"Okay. Why not?" Jen said jokingly. Then, more seriously, added: "Listen, I told you this. I would do it. The girls would do it. And the boys would do it, I'm sure. Listen, anything can happen."
This isn't the first time Jen has expressed interest in a Friends reunion. "The girls always say we would love to do it again, and the boys are a little less excited about it for some reason," she said on The Late Late Show in December. "We [could] just give it some time and then Lisa [Kudrow], Courteney [Cox] and I could reboot Golden Girls and spend our last years together on wicker furniture."
Marta Kauffman, the show's creator, is less inspired by the idea of giving the reunion a shot. While chatting with Rolling Stone, she detailed her reasons for not wanting to revisit the show. "There are several reasons. One, the show is about a time in your life when your friends are your family. It's not that time anymore. All we'd be doing is putting those six actors back together, but the heart of the show would be gone," she explained. "Two, I don't know what good it does us. The show is doing just fine, people love it. [A reunion] could only disappoint. 'The One Where Everyone's Disappointed.'"
Based on Jen's comments, though, it seems like Matthew Perry, Matt LeBlanc, and David Schwimmer have come around to the idea of a reunion. Perhaps Marta will, too? Fingers crossed!
Photo: Getty
Chat About Jennifer Aniston Is Down For A 'Friends' Reunion, Says Her Co-Stars Are Too