Kelsea Ballerini Brings Fiery Sass To 'Miss Me More' CMT Awards Performance
By Hayden Brooks
June 5, 2019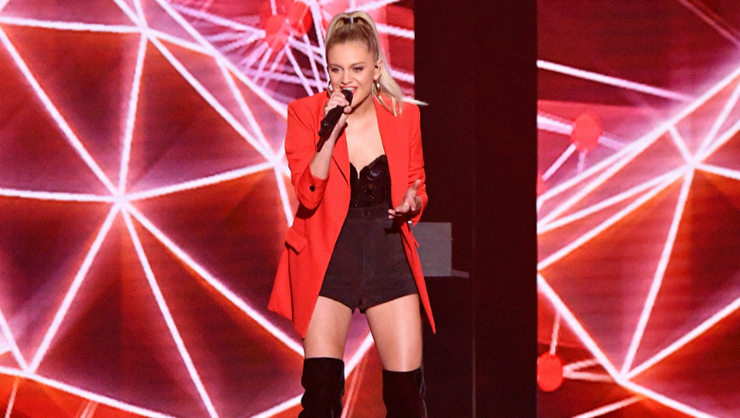 As a longtime fan of CMA week, Kelsea Ballerini knew that she had to bring her A-game to the 2019 CMT Awards on Wednesday night (June 5) with her rendition of current single, "Miss Me More," and her on-stage sass reached new heights during the number.
For her showing at Nashville's Bridgestone Arena, which was hosted by Little Big Town, the 25-year-old chart-topper brought some razzle dazzle to the stage. Dressed in a red blazer and black ensemble, Ballerini started off slow by using the crowd's illuminating lights (presumably glowing wristlets) as her backdrop with her guitar in-tow, but it was all high energy from there. As the number progressed, so did Ballerini with some ferocious sass to pair with the sparkling backdrop and pyro that exploded behind her. "But I miss me more/ I miss my own beat, to my own snare drum/ I miss me more/ Miss my own sheets in the bed I made up/ I forgot I had dreams, I forgot I had wings/ Forgot who I was before I ever kissed you/ Yeah, I thought I'd miss you/ But I miss me more," she chanted during the hook.
"Last year at the CMTs, we did 'I Hate Love Songs.' It was very stripped, it was very casual, chill," Ballerini teased in an interview prior to the number. "This year, we've gotta ramp it back up. So it'll be glittery and maybe there's a glittery, fire situation."
For Ballerini, the CMA Awards signify something special for the country singer. "CMTs are the kickoff of CMA week and I know for me, I went to CMA week as a fan, and went to the stadium, and sat up in the nosebleeds and watched that show every night," she previously reflected. "I think it's a really exciting week for us as artists to be able to have that one-on-one interaction with the fans and say thank you and just get up close and personal with everyone."
Chat About Kelsea Ballerini Brings Fiery Sass To 'Miss Me More' CMT Awards Performance