Stone Temple Pilots Share Previously Unreleased Track From 'Purple' Reissue
By Katrina Nattress
June 6, 2019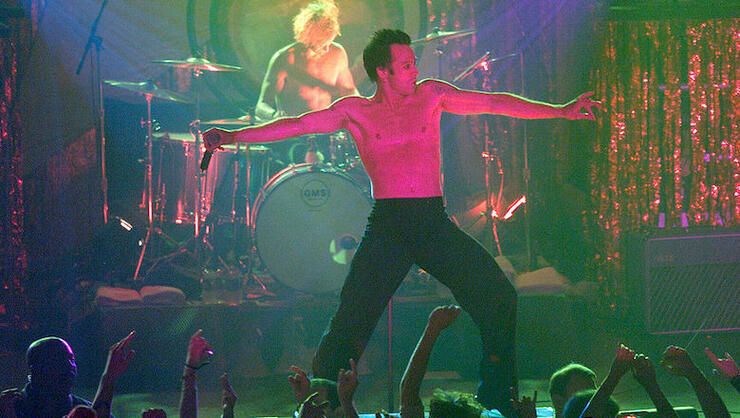 On June 7, 1994 Stone Temple Pilots released their sophomore album, Purple. And now, 25 years later, the band has completely transcended its "grunge" stereotype and is thought of as one of the best rock bands. Period.
To celebrate their first chart-topping album, STP is reissuing Purple as three-disc super deluxe edition complete with never-before heard versions of the record's most beloved songs. The band announced the anniversary project by sharing one of those previously unreleased tracks: an acoustic version of "Big Empty."
Purple: Super Deluxe Edition is slated for a September 13 release and is available for pre-order. Listen to the acoustic version of "Big Empty" and check out the full track list below.
Purple: Super Deluxe Edition Track List
Disc One: Purple 2019 Remaster
01 "Meatplow"
02 "Vasoline"
03 "Lounge Fly"
04 "Interstate Love Song"
05 "Still Remains"
06 "Pretty Penny"
07 "Silvergun Superman"
08 "Big Empty"
09 "Unglued"
10 "Army Ants"
11 "Kitchenware & Candybars"
Disc Two: Early Versions, Demos & Acoustic
01 "Meat Plow" – Early Version *
02 "Interstate Love Song" – Early Version *
03 "Big Empty" – Acoustic Version *
04 "Unglued" – Demo *
05 "Army Ants" – Demo *
06 "Kitchenware & Candybars" – Demo *
07 "Dancing Days"
08 "She Knows Me Too Well" – Demo *
09 "Interstate Love Song" – Acoustic Version *
10 "Pretty Penny" – Acoustic Version * (Live At KROQ Acoustic Christmas 1994)
11 "Kitchenware & Candybars" – Acoustic Version * (Live At KROQ Acoustic Christmas 1994)
12 "Christmastime Is Here" – Acoustic Version * (Live At KROQ Acoustic Christmas 1994)
Disc Three: Live at New Haven Vererans Memorial Coliseum, New Haven, CT, August 23, 1994
01 "Vasoline" *
02 "Silvergun Superman" *
03 "Crackerman" *
04 "Lounge Fly" *
05 "Meat Plow" *
06 "Still Remains" *
07 "Gypsy Davy" *
08 "Pretty Penny" *
09 "Creep" *
10 "Andy Warhol" *
11 "Army Ants" *
12 "Big Empty" *
13 "Interstate Love Song" *
14 "Plush" *
15 "Unglued" *
16 "Dead & Bloated" *
17 "Sex Type Thing" *
* previously unreleased
Photo: Getty Images
Chat About Stone Temple Pilots Share Previously Unreleased Track From 'Purple' Reissue