American Woman, Girlfriend Attacked On London Bus After Refusing To Kiss
By Bill Galluccio
June 7, 2019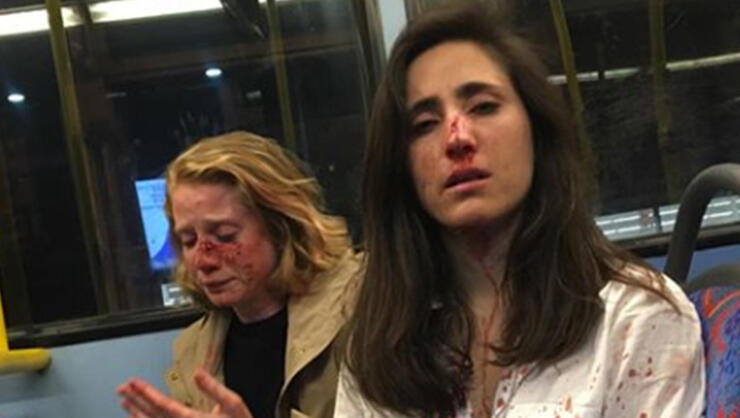 An American woman and her South American girlfriend were brutally attacked by a group of teenagers on a bus in London. The two women were approached by the teens, who began harassing them and making homophobic comments. The boys urged them to kiss and even threw loose change in their direction. After the women refused, the group turned violent and began assaulting them.
Melania Geymonat described the vicious assault on Facebook.
"In an attempt to calm things down, I started making jokes. I thought this might make them go away. Chris even pretended she was sick, but they kept on harassing us, throwing us coins and becoming more enthusiastic about it. The next thing I know is that Chris is in the middle of the bus fighting with them. On an impulse, I went over there only to find her face bleeding and three of them beating her up. The next thing I know is I'm being punched. I got dizzy at the sight of my blood and fell back."
The two women were taken to the hospital, where they received treatment for facial injuries.
"This was a disgusting attack on two women who appear to have been picked out and targeted by a group of youths," Detective Superintendent Andy Cox said. "The suspects have made a number of homophobic comments towards the couple before throwing coins at them. When the women tried to reason with the group, the attack escalated to an assault."
The Metropolitan Police took four teenage males between the ages of 15 and 18 into custody on suspicion of robbery and aggravated grievous bodily harm in connection with the incident.
Melania hopes that sharing her story will raise awareness about the ongoing violence against women and members of the LGBTQ community.
"What upsets me the most is that VIOLENCE HAS BECOME A COMMON THING, that sometimes it's necessary to see a woman bleeding after having been punched to feel some kind of impact. I'm tired of being taken as a SEXUAL OBJECT, of finding out that these situations are usual, of gay friends who were beaten up JUST BECAUSE."